Who's hungry?
Be it for breakfast, lunch, dinner or late-night snacking, Corolla and the Currituck beaches are home to some of the best eateries in the Outer Banks. Whether you're in the mood for elegant, candlelight dining or a quick bite to keep you energized for a day at the beach, your next favorite meal awaits you here.
When visitors come to our shores for the first time, many want to experience regional cuisine. Where do the locals eat? While one will find a number of familiar chain restaurants in Currituck County, we are proud to host several family-owned establishments that have served hungry guests for years. We could piece together an extensive menu of signature dishes to try on your next visit, but we are happy to touch on the top requests for food recommendations.
Seafood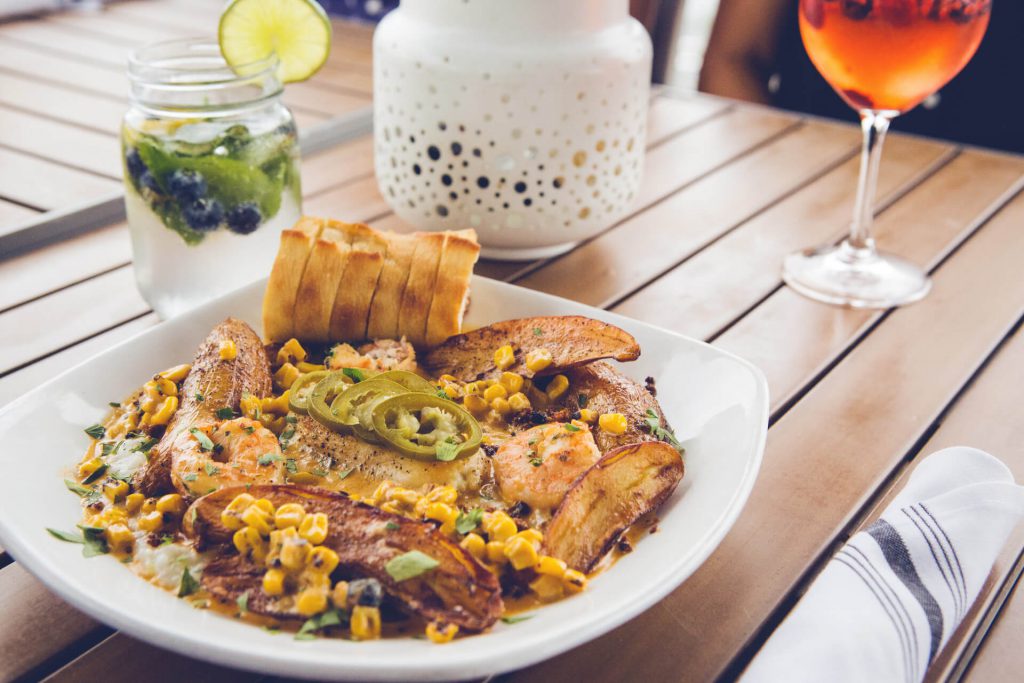 When it comes to Currituck cuisine, seafood is definitely the main event. Avid fishermen navigate the sound to catch their own, but if that's not your style, don't worry. Our favorite seafood restaurants feature fresh local catches from the sound and sea–crabs, flounder, trout, and more:
Barbecue
Barbecue lovers can be particular about their sauces, and we admit we are partial to North Carolina style. Here, vinegar and spice-brushed pork is the primary meat served with the tomato-based sauce on the side, with or without slaw.
If you're feeling homesick for other types of Q, no worries. Our favorite BBQ joints also serve up ribs, chicken, and specialties from other regions:

Burgers and Brew
How do you like your burgers, super rare or with a touch of pink in the middle? Ketchup, mustard, pickles, onions, all the way? Nothing caps off a day at the beach like a thick, juicy hamburger with a side of French fries. Add a cold beer, bonus points if it's an area microbrew, and you have the perfect summer meal. Try any of these hot spots the next time you crave a cheeseburger in our corner of paradise:
Sandwiches
Hoagies, subs, rolls, grinders or heroes… whatever you call it, the sandwich is king at lunchtime. Sandwiches are easy to pack for the beach, plus the variety allows everyone in the family to order their own. Choose your bread and fillings, pick up a bag of chips and soda, and dig in:
Sweets
Save room for dessert! Currituck's many cafes, bakeries and sweet shops have everything to satisfy your sweet tooth. Ice cream is practically a food group in a beach town, and if you're an early riser and craving a pastry with your morning coffee we have you covered:
For more recommendations on local culinary delights, be sure to browse our restaurants and eats directory, and download our free mobile app for local specials and other updates happening in our area this summer.