Every day, we answer questions from people interested in coming to Currituck County for a fun and relaxing vacation, and we're happy to do so. We want everyone who books a week or longer at any of the beach vacation homes in Corolla and Carova Beach to have all the information they need. Many folks ask about the wild Mustangs, beach regulations, and dining options, but another question we're often asked is, "How do we fly there?"
There's more than one way to get here by air…then by land. The two closest major airports near Currituck are the Norfolk International Airport (about 30 miles from our Visitor's Center at the North Carolina border, and about 99 miles from Corolla) and the Raleigh-Durham International Airport (about 243 miles from Corolla). Many visitors to our area have flown into either of these destinations and arranged for ground transportation to the Currituck mainland or beaches.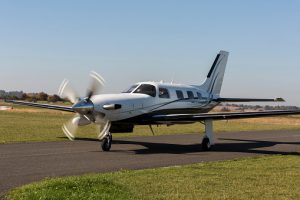 If you're able to book a private charter, however, you have the option of shortening the drive. Currituck County Regional Airport in Maple is open to the public and does not charge landing or overnight ramp fees. You can visit the airport's official website for more information.
Recently, WTKR in Hampton Roads reported that the charter aviation company Ultimate Air Shuttle will offer seasonal flights into Currituck's airport. Two round-trip flights will operate every Saturday and Sunday from May 18 through September 14, with 19 to 30 seats available per flight. At present, these flights will happen to and from three airports in the eastern United States:
Pittsburgh International Airport

Manassas Regional Airport in Manassas, Virginia (serving the Washington, DC/Baltimore metro areas)

Morristown Airport in Morristown, NJ (serving the New York City/Philadelphia metro areas)
According to Ultimate Air Shuttle's website, the company has also partnered with Outer Banks Airlines to offer their passengers private charters from Currituck County Regional Airport to Pine Island Airport in Corolla. Direct private charters to Corolla are also available from Outer Banks Airlines from most airports in the United States. Their website lists available charters east of the Mississippi, and you can contact them for an estimate closer to you.
Whichever airport you choose as part of your journey to the Currituck Outer Banks, we can assure you it's worth the trip.
Source: WTKR.com