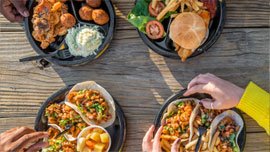 If you are planning a trip to the Currituck Outer Banks, you may be researching which restaurants to visit during your stay. The Currituck Outer Banks have a variety of great places for dining during your visit. Check out this list of some of the top restaurants to go to while you visit Currituck.
Tomato Patch Pizzeria
The Tomato Patch Pizzeria has been open on the Outer Banks since 1993. It is a great family-owned and family-style pizza restaurant to visit during your time in Corolla. You can find it in the Monteray Shores Plaza. Menu items include gourmet pizzas, garden salads, pastas, calzones, subs, sandwiches, and seafood. There are many items on the menu for every member of your family to try. One can try anything from the restaurant's homemade crab dip to seafood pasta.
Corolla Village Bar-B-Que
Before or after your visit to the Currituck Beach Lighthouse and the Whalehead Club which are both located in Corolla, consider stopping for barbeque at one of the best places on the beach! It is located close to the lighthouse in Historic Corolla Village, and the restaurant is open for lunch and dinner. You can try barbeque pork, chicken, and ribs. Sides include baked beans and potato salad. You do not want to miss the chance to visit this unique Outer Banks restaurant for barbeque while you visit Currituck County!
Bluewater Seafood Market
If you want to try fresh seafood but prepare it on your own or get seafood to go, consider visiting the Bluewater Seafood Market located in Corolla! Seafood available at the market includes mahi-mahi, swordfish, oysters, crabmeat, and shrimp. Outer Banks seafood is something you should try while you visit Currituck, and preparing it while enjoying your stay in a vacation rental would provide a great Currituck experience!
Sooey's BBQ & Rib Shack
This is another great restaurant for trying barbeque while you visit Currituck. Menu items include pork ribs, which are made with Sooey's BBQ sauce, pulled BBQ chicken, fried shrimp, southern fried chicken, and sandwiches, such as a fried flounder sandwich and a crabcake sandwich. While the restaurant has a location in Corolla, you can also find it in Duck and Nags Head. It is a locally owned and operated restaurant, and it is great restaurant to visit to enjoy North Carolina barbeque!
Pizzazz Pizza Company
Pizzazz Pizza Company is a locally owned and operated pizza restaurant on the Outer Banks. In addition to a location in Corolla dining location, it is also in Duck, Kitty Hawk, and Nags Head. There are many different pizzas, as well as salads and subs, for you to try at Pizzazz Pizza. Enjoy a Hawaiian pizza, Veggie pizza, The Greek pizza, a house salad, and a Chicken Parmesan hot sub. Pizzazz Pizza is a popular pizza restaurant among locals and those who visit Currituck, so stop by during your stay!
Steamers
Steamers is a unique place to visit while in Currituck. You can dine in or take out a variety of food when visiting Steamers. The restaurant is located in the TimBuck II Shopping Village in Corolla. You can find a diverse array of items on the restaurant's menu. Try fried jumbo shrimp, jumbo oysters, homemade desserts, such as classic key lime pie, crab cakes, roasted chicken, and clams. There is a meal for every member of your family! Stay at the restaurant or take out food during your visit to Corolla!
Corolla, in Currituck County, is a vacation destination for many Outer Banks visitors. As you plan which restaurants to visit during your vacation, make sure you try a variety of local seafood, pizza, desserts, barbeque, and more as you visit Currituck!