You never forget the first time. The feel of warm sand between your toes, the salty tang of ocean air, the glorious view of Wild Mustangs frolicking in the surf. Every "first" experienced on the beaches of Corolla and Currituck County inspires a lasting memory. If this year marks your first visit, we can't wait to see you and we hope your trip surpasses your expectations for a memorable vacation.
By now, you have probably browsed our online visitors guide for a rundown of everything to see and where to eat while you're here. Even with a week's stay, with so much available there may not be time to see and do it all. With every first visit to the Currituck beaches and mainland, though, we recommend several "musts" in order to get the most out of your stay here.
Book a Wild Horse Tour
The legendary Wild Mustangs, descended from the horses of Spanish explorers, roam the beaches and dunes year round. If you rent a vacation home on any of the 4×4 beaches, you may get lucky and see the horses in their natural habitat. The best way to enjoy them–from a distance, of course–is on a guided tour. Our Wild Horse tour companies know exactly where to find the horses during the peak seasons, and you'll have opportunities to record video and take pictures.
Climb the Lighthouse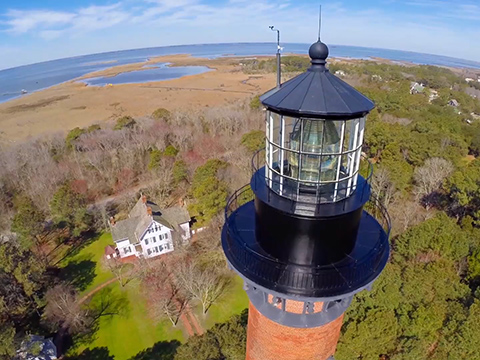 The top of the Currituck Beach Lighthouse is one of the best photo spots in the county. Enjoy panoramic views of the ocean and sound sides of Corolla, and explore a bit of the lighthouse's history. Opening for the season on March 18, 2023, the lighthouse will be open for climbs daily through November 30.
Reserve One Whole Day for the Beach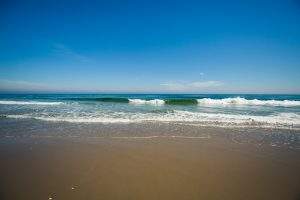 You came to the beach to relax, right? Imagine spending an entire sunny day not thinking about work or email or anything else. Grab your beach blanket or chair and find a spot in the sand. Watch the waves, read a book, look for shells… whatever you like to find your inner peace.
Visit Historic Corolla
After climbing the lighthouse, explore the rest of Corolla's historic district. Whalehead, the restored 1920s Art Nouveau mansion, is a time capsule of early twentieth century elegance. The Currituck Maritime Museum, free to visitors, offers fascinating, interactive exhibits of our county's nautical history. Historic Corolla Village offers a fun afternoon exploring different shops taking residence in some of Corolla's oldest buildings.
Eat Local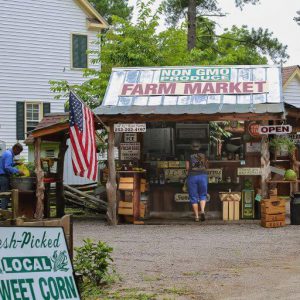 All along the Currituck mainland, farmer's markets provide delicious in-season produce and home-baked treats. Our growing wine and spirits trail is definitely worth visiting on your first vacation here, too. Check out our restaurant guide for the best in local seafood, barbecue, ice cream and other culinary delights.
If you've stayed in one of our spacious vacation homes on the beach in the past and enjoyed the best of Corolla and Currituck with your family, share your experiences with us on our Facebook page. If you're planning a return visit, be sure to download our revised visitors guide and see what's new for you to explore, and stop by our wonderful visitor centers in Moyock and Corolla for maps and more information.