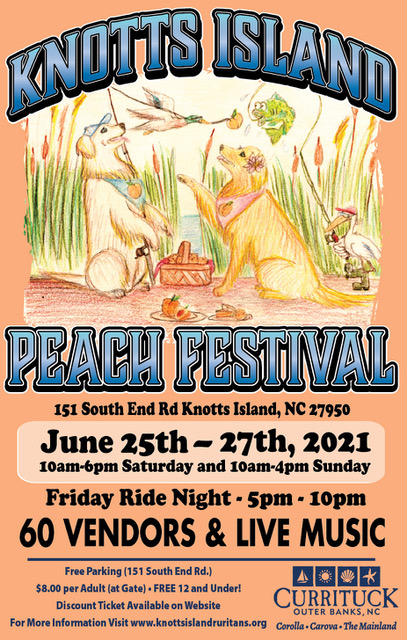 One of the most popular and celebrated events held on the Currituck mainland is the annual Knotts Island Peach Festival. This year visitors can enjoy a weekend filled with family-friendly fun, arts and crafts, and some of the most delicious peaches in the state. 
The annual Knotts Island Peach Festival typically happens over three days in late June: 
June 25, 2021 from 5:00 p.m. – 10:00 p.m. (this night only features the carnival rides)

June 26, 2021 from 10:00 a.m. to 6:00 p.m.

June 27, 2021 from 10:00 a.m. to 4:00 p.m. 
If you've planned a stay at a vacation beach house in Corolla during this part of the month, or live in the Hampton Roads area, here are a few things to know if you are interested in making the trip.
How to Get There: Looking at a map, you may think the Knotts Island area is part of Virginia. It is located in Currituck County, however, and visitors coming from the Commonwealth can map a course through Virginia Beach and Pungo or off the Chesapeake Expressway with their preferred GPS or app. Coming from the Outer Banks or parts of Currituck, you'll want to take the Currituck Ferry.
The Currituck Ferry operates year-round from the Currituck Sound to Knotts Island, and vice-versa. It is a 40-minute trip from one side to the other and there is no fee. You can check the current schedule from NC DOT, but you may also want to follow them on Twitter in the event of schedule changes.
The official address for the festival's location, Knotts Island Ruritan Park, is 151 South End Road.
How Much it Costs: The annual Peach Festival is not only fun, but affordable. Adults pay $8 admission at the gate, and children 12 and under get in free. Parking is also free. As for food, crafts, and other purchases, prices will vary according to their respective vendors. 
If you want to enjoy the carnival rides, you can purchase a wristband in advance for Friday and Sunday for $15 online. The cost on the fairground, day of event, is $20. Contact the Knotts Island Ruritans at 757-270-1338 or message the festival's Facebook page for more information. 
What to Expect: In a word, fun! Naturally you'll have the opportunity to savor juicy peaches in many forms – be it in pies, in peach ice cream, or straight from the tree. The festival also showcases live music, local artists and vendors, and raffle prizes including a stand-up paddleboard. 
You may also want to spend some time exploring the rest of Knotts Island which includes the Mackay Island National Wildlife Refuge. See our online guide to Knotts Online for more information.
Related: 5 Things To Do On Knotts Island