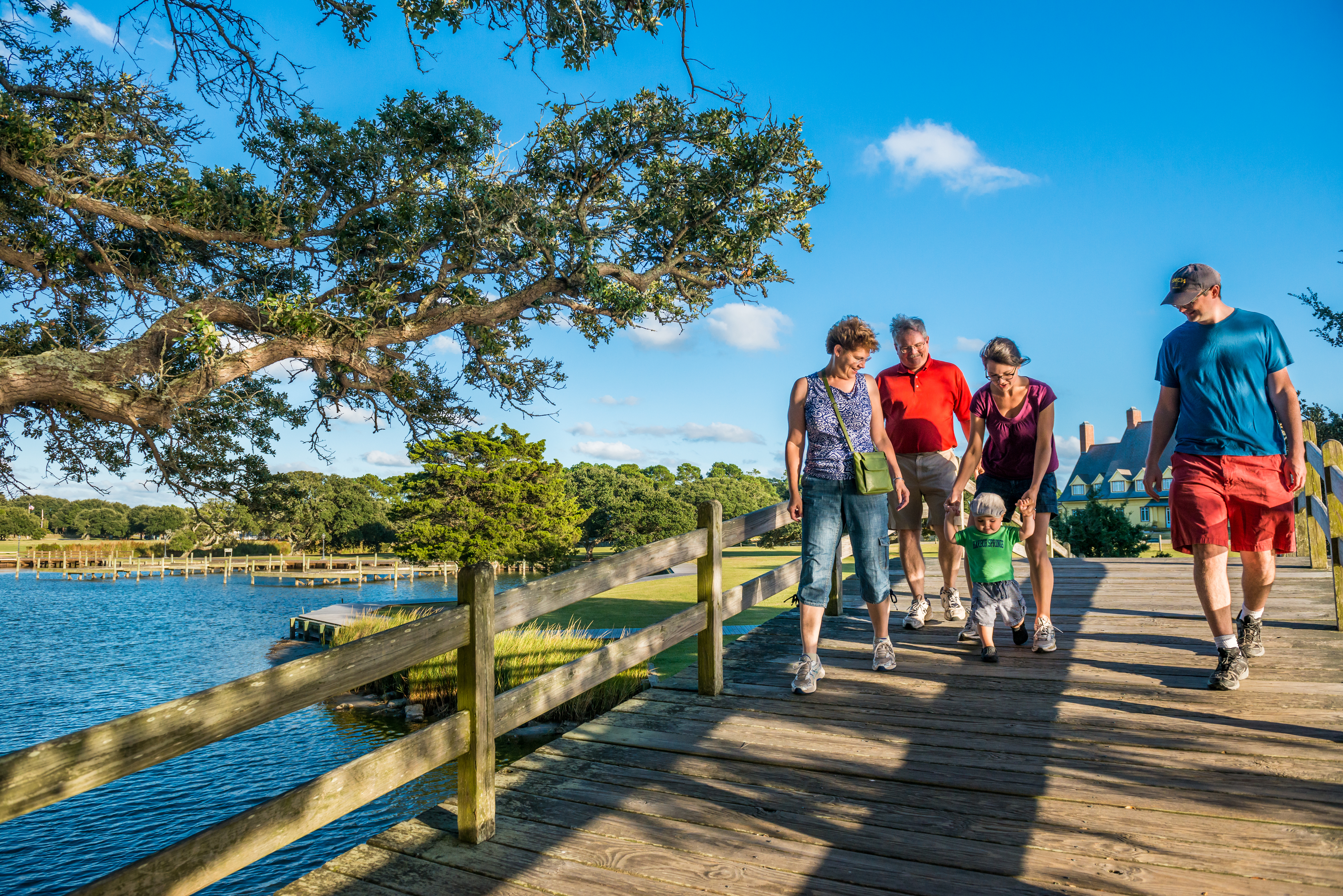 When it comes to planning out an adventurous family vacation comprised of nature and exciting programs, look no further than Currituck County and its Outer Banks in North Carolina. The county has 20 miles of pristine beaches, protected parks and plenty of kid-friendly attractions like go-karts and bumper cars. Plus there are a few surprising attractions that await small travelers. Here are the best things to do with your kids in Currituck County, North Carolina.
Mini Golf 
Tucked away in historic Corolla, families can play a kid-friendly game of miniature golf at Adventure Golf and Bumper Cars. On the mini-golf course, families will find funny Corolla themes such as a miniature model of Whalehead and statues of wild horses. The venue has an extended bumper car area for families to chase each other under the blacklights. The bumper cars are designed to be kid-friendly, providing more cushion and less jolt upon collision. The golf course accommodates kids of all ages and is open seven days a week from 9 a.m. to 11 p.m.
Corolla Raceway
Those with the need for speed will want to check out Corolla Raceway by Sanders Bay where both kids and adults can enjoy driving a super fast go-kart. The raceway features a large and spacious track for families to compete. Smaller children will be given a junior kart to play with other age-appropriate children. A bumper car rink is included at the raceway along with video arcades, a game room and a concession stand.
Kite Flying
Currituck County's open beaches and Outer Banks make it ideal for kite flying. On Austin Street in Corolla, a popular Flying Smiles Kite shop sells high quality and limited edition kites in the shape of animals (some designed by store owners). Kitty Hawk Kites is an outdoor recreation area with adventurous attractions like hang-gliding and flyboarding. However, Kitty Hawk Kites specializes in kite flying, where experts will assist your family in this activity. Thrill-seeking families with older children may want to amp up their experience by kiteboarding instead.
Educational Programs
Children can enroll in several educational programs at the Outer Banks Center for Wildlife Education. The center has various lessons and activities targeted to children of different age groups, like Fish Sticks, where experts will teach young children the basics of fishing. Sound Sampler is a 1.25-hour program for kids to explore the marshland for insects and fish. Sea Turtle Activities invites children of all ages to dress up as sea turtles and play various turtle-themed games.
Wild Horses of Corolla
One of the biggest perks of Currituck County is its famous wild mustang horses that have inhabited the area for more than 500 years. The horses are believed to be descendants of Spanish explorers that had to abandon them due to a shipwreck in the 1500s. On the beach of Corolla, the horses roam freely and are easy to find, making for splendid photo opportunities. Families cannot pet or approach the horses, but they can join an off-road tour to see the horses up close. To learn more about the horses or buy a souvenir, Corolla Wild Horses Museum is within walking distance from its beach, where kids can ride on a tamed mustang at the museum.
Dennis Anderson's Muddy Motor Sports
At Dennis Anderson's Muddy Motor Sports, families can watch hair-raising shows of monster trucks, including the world famous Grave Digger that pummels smaller cars with ease. The venue hosts monthly and annual mud bogging events for thousands of fans to enjoy and root for.
Crabbing in the Currituck Sound
Children of all ages can participate in crabbing along the Outer Banks. Currituck Sound is an easily accessible place to catch your family's dinner with a few key items that can be purchased at a local bait and tackle shop. Families can opt to go to Knott's Island, which is only 45 minutes away by ferry. Despite the time and distance, the island is known to be a treasure trove of delectable crabs.
Kayak Tours
The best way to explore the Outer Banks is by kayak. In Currituck County, Kitty Hawk Kayaks & Surf School can give lessons to both kids and adults and take them through scenic routes to see wildlife like ospreys, turtles and fish. Families can also rent fishing supplies at Kitty Hawk. Plan ahead to reserve a late afternoon tour to catch the sunset as you and your family paddle back to the shore.
Family Photo Opportunities
Whether your family is exploring estuarine reserves, kayaking along the Outer Banks or viewing wild horses in Corolla, Currituck County is full of memorable photo opportunities. Purchase disposable cameras to allow your children to get creative and snap shots throughout trips at the beach, parks or historic villages. Another place for scenic views is Carova, where it's common to see families of red foxes romping around the dunes.
The S.E.A.L. Program
S.E.A.L. is a program to immerse your kids into beachside nature while teaching them the basic safety rules. The program stands for Safety Education and Aquatic Learning and the program is geared toward children age 7-14. Biologists and instructors will give lessons on the ocean's wildlife and safety protocols like first aid, CPR and mock lifeguard rescues. The programs are held at Corolla beach so families are welcome to stick around for more beach fun.