Once you experience the luxury of a furnished beach home rental, especially in the Currituck Outer Banks, you'll find it difficult to vacation any other way. It's no surprise to see perennial visitors to our shores, many of whom bring friends and family to share the sunshine and sights of our majestic horses playing in the surf. The colorful cottages available year-round offer the comforts of home plus the amenities you wish waited for you at home – hot tubs, game rooms, a home theater experience – all steps from the beach.
It's not unusual, either, for people to return to Corolla and the Currituck beaches to get married or host a reunion. For these special occasions, though, you need a bit more room. Once you set the date, the first thing you need to do is find the right event home to rent.
What is an Event Home?
What is it about a Currituck event home that sets it apart from all the stunning, sun-kissed vacation rentals dotting the shores of Corolla and Carova? While most Currituck vacation cottages offer multiple bedrooms and grand living space to suit large parties, an event house on the beach is equipped to accommodate everything from a corporate retreat to a wedding with around 200 guests.
Choose any vacation property management company listed on our site, and you can filter your search to narrow down rentals that allow on-site events. Typically a search for homes with ten or more bedrooms can lead you in the right direction, though other properties with large common areas may suit your needs, too. Amenities offered by some Currituck-area event homes may include:
Quiet beach views. Nothing beats an unspoiled shoreline backdrop for wedding photos. It's also tempting to get up early so you can have the sunrise to yourself before taking on the day. An event home in the 4×4 area offers a secluded environment for whatever you have planned, be it a group retreat or an intimate wedding reception.
Resort-style perks without the resort crowds. What would make your destination event perfect: a hotel-sized pool with hot tub? A tricked-out home theater or outdoor bar? How about a commercial-grade kitchen so caterers can cook on-site? Some of the larger event homes in Currituck feature one or more of these perks in addition to multiple bedrooms with private baths.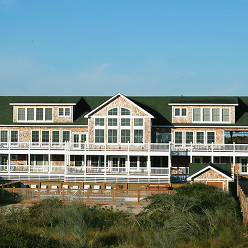 Space for large gatherings. Room to move is what separates the cozy family trip from the dream Instagram photo reel. Select event homes in the Currituck Outer Banks provide enough of it to allow as many as 250 people to come together. The Chesapeake, in the 4×4 area, features a beautiful inner courtyard and a covered pavilion – perfect for a wedding reception dance floor and band/DJ setup. Other homes like The Wild Horse on Swan Beach and The Mark Twain (one of the famed Three Authors houses) have large meeting rooms and allow for event tent setup on the sand.
What to Know Before You Book
As with any vacation home in the Outer Banks, it's crucial to book as early as possible. Reservations for event homes can fill quickly. Be mindful, too, of other considerations:
Fees. Separate fees may be charged in conjunction with your event. If you plan to book a home that permits events, make sure you note this up front with the property manager and give an estimate on the number of guests attending.
House rules. Though some of Currituck's event homes are secluded, occupants must still observe noise ordinances and other beach regulations. The property manager may also provide house rules on occupancy and parking.
Horses. You may long for a few of the wild Mustangs to crash your event, but remember they are protected. Guests cannot come within 50 feet of a Corolla wild horse under penalty of law. Admire them from a distance during your outdoor event, but no feeding them from the buffet!
Your search for the perfect event home for your wedding, reunion, or retreat starts here. Use our guide to Currituck vacation homes to research available options, and feel free to contact us for questions about hosting a large event. We look forward to being a part of your next big celebration.