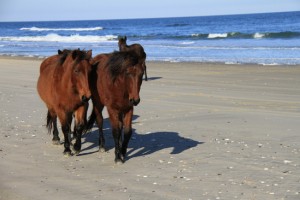 One of visitors' favorite experiences in Corolla, NC is seeing the wild horses. The horses can be found in Corolla and Carova in the northern Outer Banks, where they've lived for several hundred years. They are believed to have descended from a herd of Spanish Mustangs that may have been left behind by early Spanish explorers or that perhaps swam to the OBX after a shipwreck. Because the northern Outer Banks have historically been so isolated, the wild horses have been able to multiply and thrive.
As the area became more developed, it also became more hazardous to the horses, which were relocated to the 4×4 area north of Route 12 in 1997. The Corolla Wild Horse Fund was incorporated in 2001 "to protect, conserve, and responsibly manage the herd." Members of their conservation team do all of those things, and they are also a great resource for education about the horses — both how to see them and how to help preserve them.
So now that you know more about the horses, how can you make sure that you see some on your Outer Banks vacation? Here are some of the ways to catch a glimpse of the Corolla wild horses.
Choose a vacation rental in Carova. If you have 4WD in your vehicle and are looking to stay in a rental home rather than in a hotel, this may be all you need to do to see the horses. They tend to hang out in small groups on the beaches, but they'll also happily congregate near beach houses and in wooded areas. If you're staying in the 4×4 area, they're likely to be easily spotted.
Take a day trip to the Northern Outer Banks. Even if you're not staying in Carova, it's a short drive on the beach to see the horses. The same deal applies — you'll need 4-wheel drive and reduced air in your tires to drive on the beach, but you'll be in prime horse-spotting territory. If you're driving on the beach: Please go slowly and carefully, use your headlights in the morning and evening, and don't drink and drive. Collisions with horses are a heartbreaking consequence of speeding and other poor decisions made while driving. Don't let the freedom of driving on the beach interfere with the horses' wellbeing.
Go on a wild horse tour. If you don't personally drive an SUV with 4-wheel drive, this may be your best bet. There are many companies in Corolla that have the knowledge and experience to help you see the horses and get some great photos. All you have to do is sit back, relax, and enjoy the ride. Book your tour in advance — tours tend to sell out.
Whether you choose to see the horses on a guided tour or they just happen to appear while you're relaxing on the beach, please remember to enjoy them from a distance. It's unlawful to intentionally come within 50 feet of the horses. If they show up around the perimeter of your beach house, there may not be much you can do besides stay indoors. But approaching them to photograph, pet, or feed them is illegal, and it could be dangerous both to the horse or to you. So use the zoom on your camera, keep your distance, and enjoy the view.