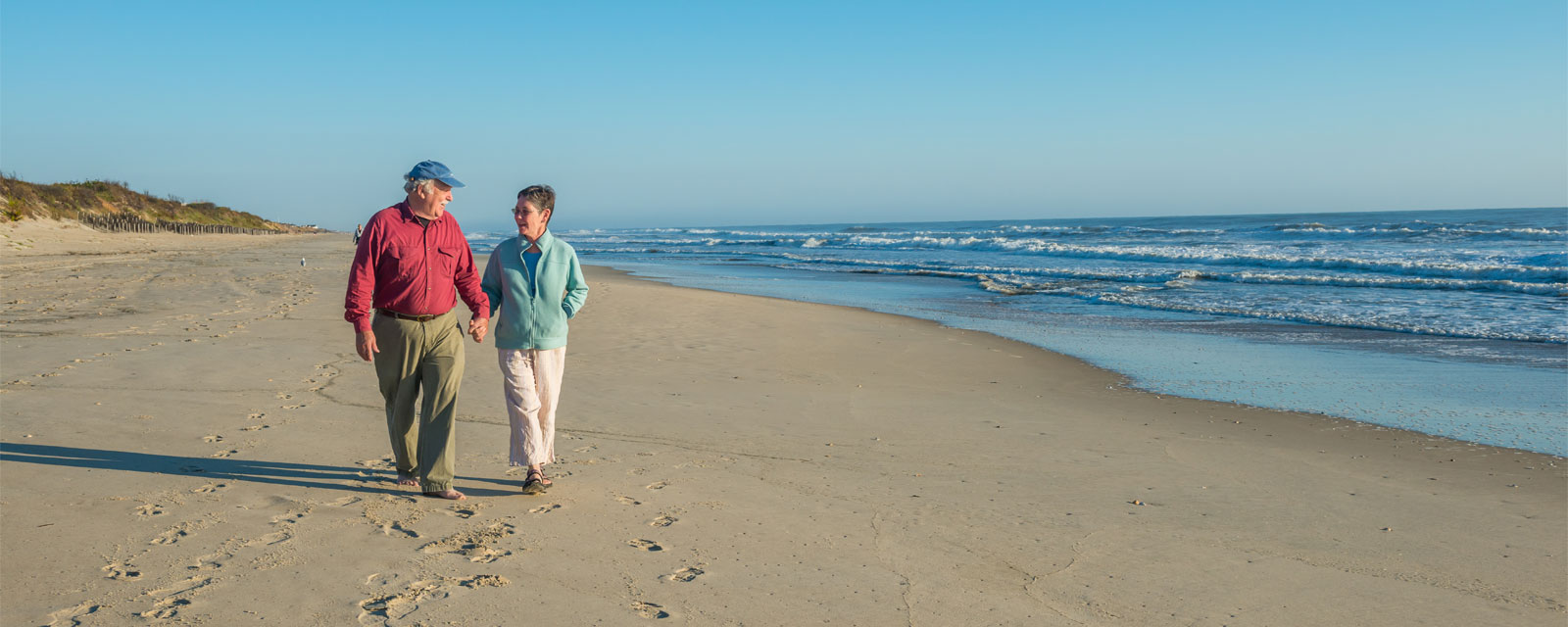 Now that the holidays are winding down, and winter is settling in for the long haul, you may find yourself longing for a getaway to help you recharge your system. You don't have to purchase a pricey plane ticket or burn excessive vacation hours to take a restorative and invigorating winter vacation.
Winter escapes to the beaches of Currituck County, Outer Banks are as relaxing and peaceful as they are affordable and hassle-free. Time spent along our shores on the off season is one of our best kept secrets (not anymore!), and a favorite way for nature lovers, sportsmen, couples, friends and families to gather and enjoy a few days away from the noise of everyday life.  
Whether you're new to our beaches, or simply haven't explored our historic mainland, you've come to the right place. Pack up your cold weather essentials, grab the ones you love and head in the direction of your happy place this winter. Here are 10 things you can expect to do when you get here…
Explore Nature. Bird watchers, amateur photographers and nature lovers of all ilks enjoy exploring our outer banks beaches and our mainland for glimpses of rare birds, wild mustangs and a variety of other indigenous creatures. Leave your devices at home and venture out to connect with nature at the 

Currituck National Wildlife Refuge

, the 

Pine Island Audubon Sanctuary and Center

 or the 

Mackay Island Wildlife Refuge

.
Indulge in Local Fare. Our famous Carolina Barbeque and fresh seafood are enough reason for many of our loyal visitors to come back year after year, in winter, spring, summer or fall. Check out 

area restaurants

 to see what is open.
Wine Tastings. Bundle up and head over to one of our local wineries for wine samplings and a tour of their natural vineyards. Bring a bottle home to sip with dinner inside your cozy beach home. Both 

Martin's Vineyard and Orchard

 and 

Sanctuary Vineyards

 are excellent local spots to visit.
Brewery Tour and Tastings. More of a beer fan than a wine connoisseur? Plan an afternoon visit to 

Weeping Radish Brewery

 to tour their facilities, sample their brews or dine in their restaurant.

Bundle Up for the Beach. Cold temperatures don't have to keep you away from the beach. Bundle up with a hot cup of cocoa and walk the shoreline on one of our beautifully-preserved beaches. You might catch sight of wild mustangs as you gaze out at our stunning, one-of-a-kind sunrises and sunsets and breathe in fresh, ocean air.   

Make the Most of Your Big Beach House. In busy times, it's not often we can gather the ones we love in one place and just spend time together. Make the most of large beach houses and off season pricing by gather extended family and cuddling up indoors for home cooked family meals, time spent relaxing in the hot tub or around the table with a friendly game of scrabble.

Spa Time. Give your body some love and much needed rest and relaxation and pamper yourself at one of 

our local spas

. Whether you prefer a massage, pedicure, manicure or all three, you'll find what you're looking for.

Get Out and Move. A visit to the Outer Banks in winter doesn't mean staying sedentary or indoors all day. Head out for a long hike along nature trails or on the beach. Runners enjoy running on the hard sand and cyclists enjoy riding out on empty roads and experiencing the natural, untouched landscape from their bikes.

Hunting. Currituck County is a sportman's paradise. Located on the Atlantic Flyway, Currituck features exceptional hunting and a dense population of waterfowl. Big beach houses can accommodate small groups and make it easy to journey out early each morning. Find local hunting guides and resources at 

Currituck Sports

.

Historic Activities. The rich history and heritage of Currituck Outer Banks provide a unique and inspiring experience for travelers. Bring the entire family to explore 

Historic Corolla Village and the Wild Horse Museum

, as well as the 

Currituck County Historic Jail and Courthouse

 and the 

Historic Jarvisburg Colored School

.
Ready to experience exactly the winter vacation you've been looking for? Head over to our accommodations page and check out great deals on beautiful houses.