For Love and History Tour
 Celebrate the 100th Anniversary of Edward and Marie Knight.
Join us for a special tour honoring the history and anniversary of Edward Collings Knight, Jr. and Marie Louise Lebel Knight and their hunting cottage at Whalehead in Historic Corolla.
Date: Saturday, October 22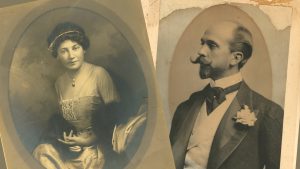 Time: 11 a.m. -3 p.m.
Live Music: Wayne Tympanick and his Jazz Band, 4 Piece Jazz Band playing 1920s music
Location: Whalehead in Historic Corolla
Tour will be held on the first floor and will include artifacts and information, specifically on the Knights.
Refreshments will be served on the front porch.
The first 50 visitors will receive a party favor.
Free and Open to the Public (This is a non-ticketed event)
Call for more details: 252.453.9040
Whalehead in Historic Corolla, 1100 Club Road, Corolla, NC 27927
Industrialist Edward Collings Knight Jr., and his wife, Marie Louise Lebel Knight got married on October 23, 1922. In celebration of their love for each other, Edward purchased the 4 mile stretch of land originally known as Corolla Island. They started building Whalehead, which took 3 years to build, and finally completed it in 1925. With both having a shared passion for hunting waterfowl, they built this winter getaway for hunting and entertaining. Come and celebrate their 100th anniversary with us at Whalehead!
Currituck Maritime Museum will also be open on Saturday, October 22 from 10 a.m. to 4 p.m.