Currituck County's Department of Travel & Tourism was recognized recently by the Destination Marketing Association of North Carolina (DMANC) during the association's annual awards ceremony. The department received two first-place awards and one second-place award for various marketing projects.
The Destination Marketing Achievement Awards honor and showcase innovative, best practices, creativity and outstanding efforts in tourism marketing. The awards earned by Currituck's Tourism Department were presented in the Large Budget division, meaning that the Currituck bureau competed against other sizeable North Carolina destinations such as Raleigh, Charlotte, the Outer Banks, and Durham.
Currituck was awarded a Platinum Award (first place) in the category of Destination Marketing Initiatives for its web-based marketing campaign that included a combination of multiple electronic mediums (Internet website, mobile website, social media, video). Charlotte's visitor's bureau placed second in this category.
Currituck earned a second Platinum Award in the category of Destination Marketing Initiatives for its Starsky Starfish social media campaign. For this project, an animated starfish – Starsky – was created to communicate (in a fun, creative way) information related to vacationing at the Currituck Outer Banks. The Outer Banks Visitor's Bureau took the second place award in this category.
Web management for the Currituck Tourism Department is handled by the Ciniva Web Agency, a web design and search marketing company with offices in Norfolk, VA, and Moyock, NC.
A Gold Award (second place) was presented to the Currituck bureau in the category of Destination Marketing Constituents Communications for the Currituck Tourism E-newsletter. The newsletter is periodically sent to the Tourism Department's database of potential visitors.
The awards were presented at the DMANC annual awards banquet, held earlier this month in Southern Pines, NC. Award entries were submitted by tourism departments/visitors bureaus across North Carolina. The judges were national tourism professionals including advertising agency representatives and marketing specialists.
PHOTO: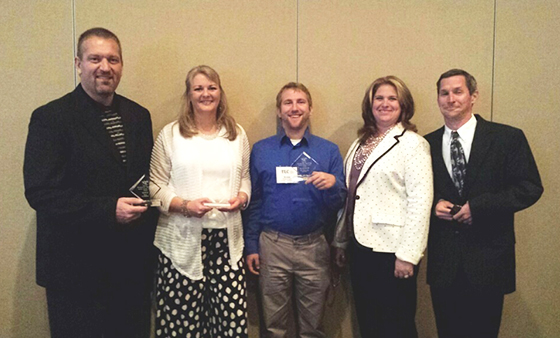 Currituck County Tourism staff members (pictured l-r): John Wiltgen, Marketing Program Manager; Diane Nordstrom, Tourism Director; Robbie Foglia, Manager of Search Marketing with Ciniva Web Agency; Michele Ellis, Public Relations Coordinator; and Dan Clowdsley, Marketing Specialist.
Photo courtesy Currituck Travel & Tourism
Diane Nordstrom