Thirteen employees of Currituck County tourism businesses were honored recently at the Third Annual Hospitality Guest Service Excellence Awards. The program was organized through the county's Travel and Tourism Department, and the awards were presented by members of the Currituck County Board of Commissioners, Currituck Tourism Director Diane Nordstrom, and the events' keynote speaker, Lynn Minges, Assistant Secretary of Tourism, Marketing and Global Branding for the NC Department of Commerce.
The awards recognize both front-line and behind-the-scenes staff members who excel in providing customer service to tourists. Award recipients were honored during the Currituck Chamber of Commerce's annual membership meeting and awards luncheon held on October 11th at the NC Cooperative Extension Service Currituck Center in Barco.
There were four award categories for the Hospitality Guest Service Excellence Awards: Front-Line, Behind-the Scenes, Tourism Management and Tourism Leader. In each category, a top award was presented along with honorable mention awards – called Star Service Awards.
The top winners included: Stephanie Gardner, Beach Bums, Front-Line category; Natalila Holshouser, Outer Banks Blue, Behind-the-Scenes category; Sue Ann Lewis, Carolina Shores Vacation Rentals, Tourism Management category; and Jeanne Meiggs, President of the Whalehead Preservation Trust, Tourism Leader category.
Star Service Awards were presented to: Heather Day, Brindley Beach Vacations & Sales; Carol Harrell, Inn at Corolla Light; Floyd Hoskinson, Sun Realty; Bret Ervin, Steamers Shellfish to Go; Bernie Spirito, Village Realty – Corolla; Pamela Geyer, Twiddy & Company; Rick Robinson, Resort Realty; Alice Bradley, Corolla Wild Horse Fund; and Lynn Kirisits, Duck Donuts – Corolla.
"We are extremely pleased to honor these dedicated individuals," Nordstrom said. "Good customer service is vital to the tourism industry, and these award winners exemplify the best in hospitality."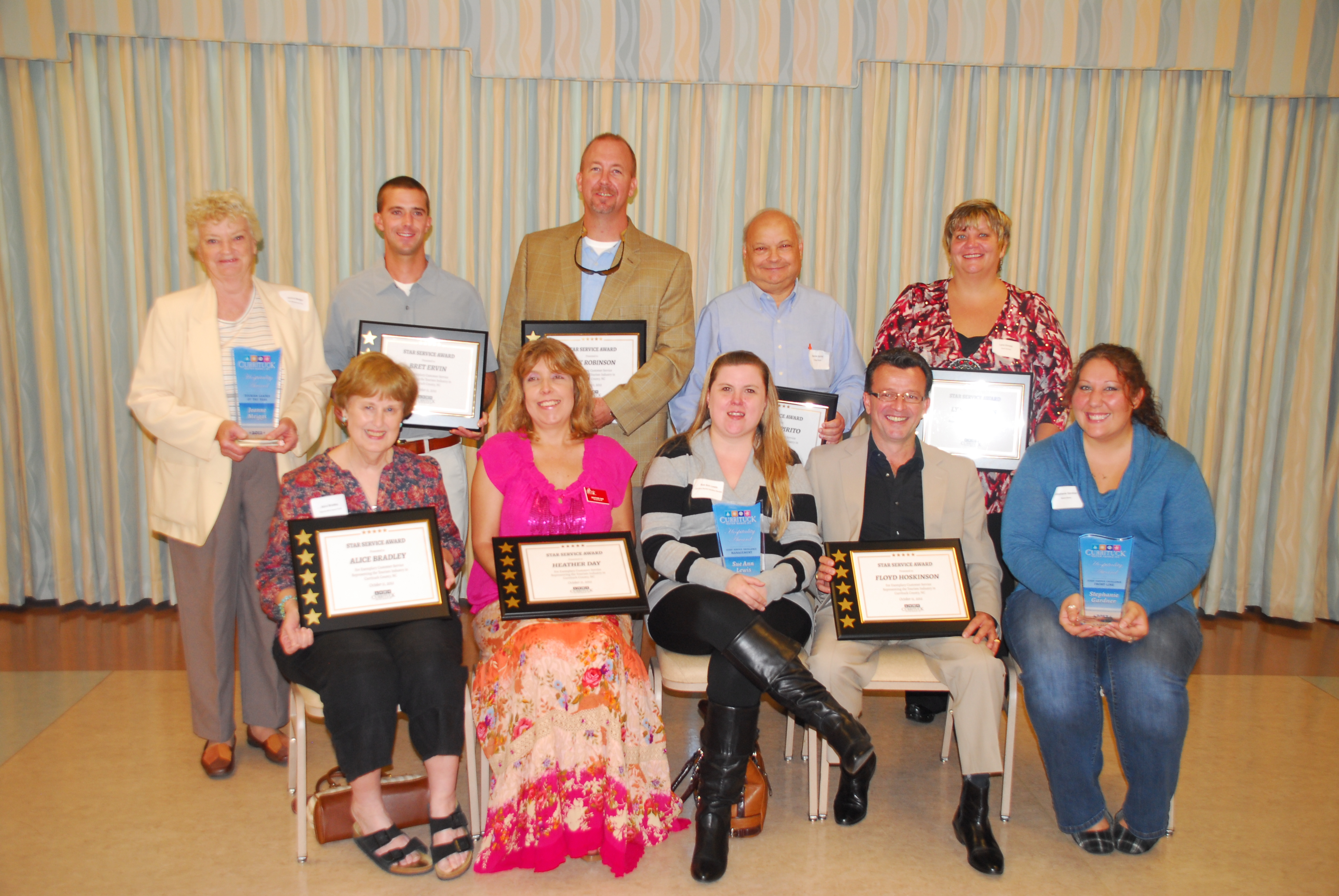 PHOTO:
Front Row (l-r): Alice Bradley/Corolla Wild Horse Fund, Heather Day/Brindley Beach Vacations & Sales, Sue Ann Lewis/Carolina Shores Vacation Rentals, Floyd Hoskinson/Sun Realty, Stephanie Gardner/Beach Bums
Back Row (l-r):
Jeanne Meiggs/Tourism Leader of the Year, Bret Ervin/Steamers Shell Fish to Go, Rick Robinson/Resort Realty, Bernie Spirito/Village Realty, Lynn Kiristis/Duck Donuts-Corolla; not pictured: Pamela Geyer/Twiddy & Company, Natalia Holshouser/Outer Banks Blue, Carol Harrell/Inn at Corolla Light