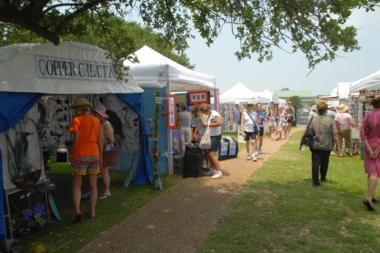 Looking for a way to take a break from the beach during your visit to the Currituck Outer Banks? If so, don't miss your chance to check out the Under the Oaks Art Festival. The fun event is in its 14th year, and for good reason! It will feature art from some of the best local artists on the Outer Banks as well as some fantastic pieces from artists from all over the country!
The event is set to take place June 23rd and 24th (starts at 10:00 AM) on the beautiful property of Historic Corolla Park. As one of the most beautiful destinations on the entire Outer Banks, Historic Corolla Park features views of the Currituck Sound, Currituck Beach Lighthosue, and the Historic Whalehead home. In addition, the oaks that line the property will provide pleasant shade as event attendees browse through wonderful art from countless artists.
Beautiful art won't be the only source of entertainment at this fun, family-friendly event. There will be musical entertainment on hand so you can take in some summertime melodies that will perfectly accompany the views and art to be enjoyed on the grounds of Whalehead. Don't forget to bring the kids along! There will be fun activities for the little ones to enjoy while being exposed to a dose of artistic culture right here on the Currituck Outer Banks! Children's activities will include face painting, hair braiding, pony rides, and more.
Even if you aren't staying in Corolla, Under the Oaks Art Festival will be well worth the trip from Duck, Southern Shores, Kitty Hawk, or any of the Outer Banks towns further to the south. The event is a great chance to visit the