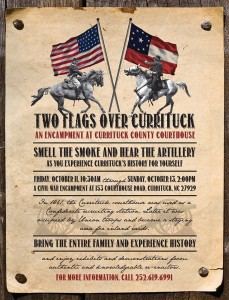 2013 marks the 150th anniversary of the American Civil War, and it may surprise you to know that Currituck is full of Civil War history. To commemorate this important anniversary and Currituck's connection to American history, a recreated Civil War encampment and exhibition known as Two Flags Over Currituck will be taking place this weekend.
Currituck County was frequently occupied by troops during the Civil War due to its ideal location and abundant resources. At times, troops camped on the courthouse grounds. In 1863, troops led by General Edward Wild forced entry onto the courthouse grounds. According to documents, the soldiers "liberated slaves, destroyed Confederate camps, occupied the courthouse grounds and carried off many early court records."
"This encampment will be a living history weekend," said E.G. Swain, one of the organizers. There will be two opportunities to experience a reenactment of the 1863 raid on the historic courthouse: on Friday at 1:00 pm and on Saturday at 11:00 am. Visitors will observe civil war camp life, as well as other interesting exhibits. Highlights of the event will include a Matthew Brady re-enactor portraying the famous photographer, along with 30 remarkable prints on display, a Civil War hospital, cooking demonstrations, an artillery exhibit, and a School of the Sailor exhibit.
When: Friday, Saturday and Sunday, Oct. 11-13
Friday, Oct. 11 (10:30 a.m. – 4:00 p.m.)
Friday is "School Day." Bus parking will be provided at Pilmoor United Methodist Church.
Saturday, Oct. 12 (10:30 a.m. – 5:00 p.m.)
Sunday, Oct. 13 (10:30 a.m. – 2:00 p.m.)
Where: Historic Currituck Courthouse – 153 Courthouse Road, Currituck, NC 27929
There will be plenty of general parking at the Currituck Judicial Center and handicap parking near the historic courthouse.
Cost: Free and open to the public!