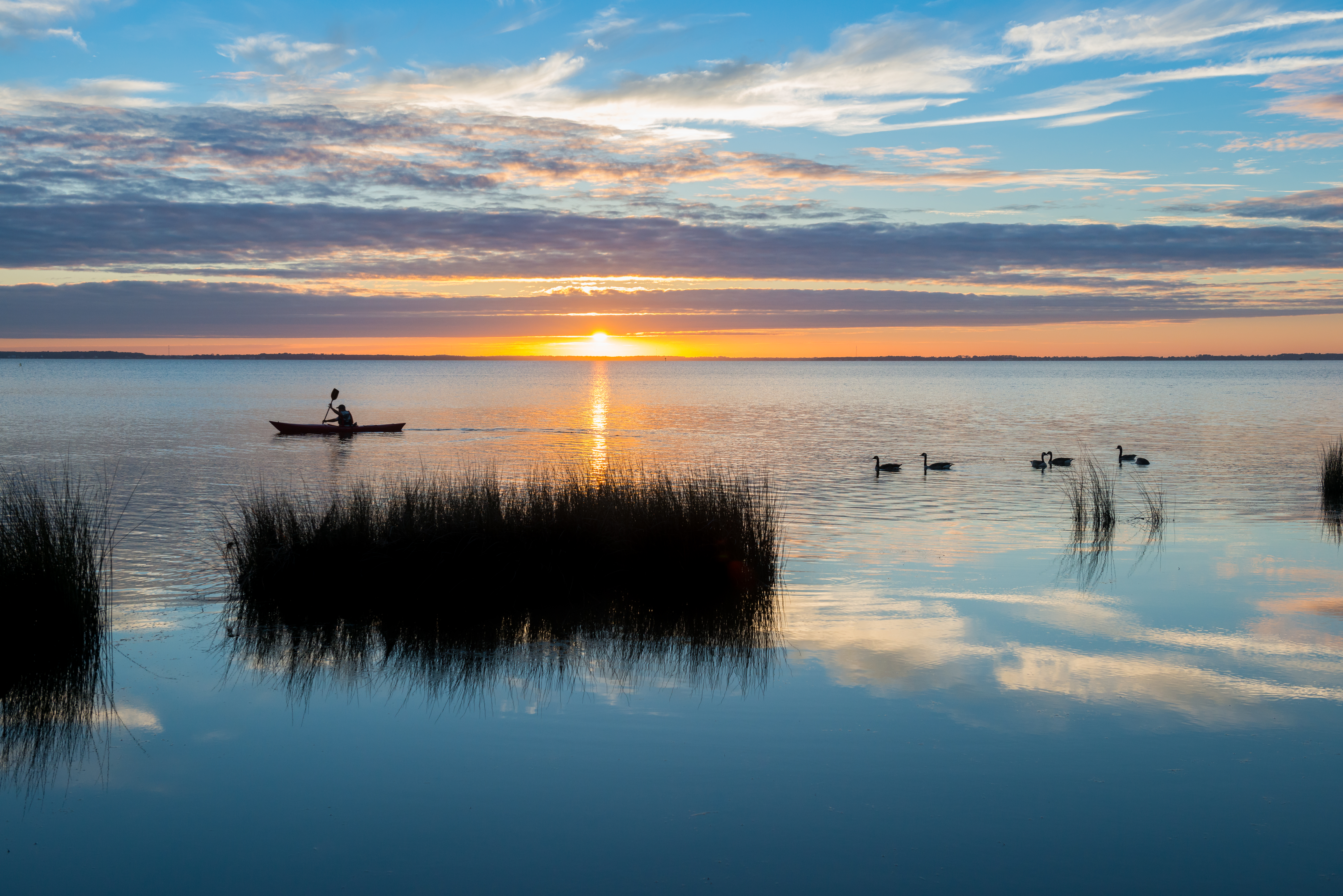 During fall, the beachside gem of Currituck County, North Carolina, becomes a popular place for visitors to enjoy the ocean and its autumn colors. Its 20 miles of beaches are accompanied by rich wildlife, historic homes and quaint villages. Here are the top things to do in the fall in Currituck on North Carolina's Outer Banks.
1. Watch the sunset over the Currituck Sound. Currituck Sound is an inlet on the western side of the shore, making it an excellent location to watch the sunset. The sound has long docks with gazebos perfect for watching the sun melt into the ocean. Along the sound, visitors can see sleepy sea grasses, towering pine trees, Spanish moss-covered oak trees, and a wealth of ducks and geese. Bring a picnic to enjoy at a seaside table as you watch the sky turn into brilliant shades of pink, orange and purple. Early risers will want to head over to the Atlantic Ocean on the other side of Currituck Sound to see the sunrise. There are many beaches on this 20-mile strip with a "small town" feel like Corolla Village and Crown Point, so it's easy to grab breakfast after waking up with the sunrise.
2. Climb the Currituck Beach Lighthouse. Hike 220 steps up to the top of Currituck Beach Lighthouse for a panoramic view of the Atlantic Ocean, Currituck Sound and the Outer Banks. The lighthouse was built in 1875; inside it today is a spiraling Victorian wrought-iron staircase, historic stone walls and large windows. At the top, visitors will see a rare Fresnel lens (only seven left in existence) invented by a French physicist, Augustin-Jean Fresnel. The lenses are known for capturing and reflecting lights at greater distances. A historic Victorian house next to the lighthouse was previously home to generations of lightkeepers. The Keeper's House is now a museum and gift shop filled with lighthouse figurines and information on the history of area lightkeepers. The lighthouse is open to the public from 9 a.m. to 5 p.m. from spring through Thanksgiving weekend. Parking and admission are free.
3. Learn to surf. Both seasoned and amateur surfers can ride the waves on the Outer Banks even well into the fall season. In Corolla, a surf shop gives daily lessons on techniques and safety on surfing. Courses run from 1.5 to 2 hours long and an instructor works with small groups of no more than five people. The Outer Banks is known for its smaller waves that make it ideal for amateur surfers. The banks have sandbars that are convenient for surfers to practice and walk to with their surfboards. Experienced surfers can rent surfing boards and equipment from the shop and check in with its website for current or upcoming weather reports.
4. Visit Historic Corolla Village. In autumn, the historic village of Corolla becomes an idyllic seaside community and is the most popular destination to visit in Currituck County. Known for its laid-back Southern vibe, the town makes a relaxing place to stroll through boutique shops, upscale restaurants and historic homes. The Outer Bank strip by the village is home to wild horses that are descendants from mustangs that Spanish explorers left behind in the 1500s. For over 500 years, the wild horses have roamed freely in Corolla and continue to be appreciated by locals and tourists. Corolla is famous for its designated 4WD beach area where guests can rent the vehicles and cruise along the coast.
5. Tour Whalehead in Historic Corolla. Overlooking the Currituck Sound in historic Corolla, Whalehead is a 1920s home that currently operates as a museum filled with Tiffany light fixtures, Steinway pianos and troves of restored antiques. Lore has it that the original owner, Edward Collins Knight Jr. and his wife shared a love for hunting. When his wife was denied admission into an all-male hunting club, he retaliated by building this 21,000-sq.-ft. nouveau-inspired, yellow mansion to please her. During fall, the mansion turns into a popular Halloween destination because of local rumors of a haunting there. Ghost tours are available throughout the fall season from 3 p.m. to 5:15 p.m., Monday through Friday. On Thursday evenings, the mansion has an additional Moonlight, Legend, Lore and Ghost tour that is spookier and may not be appropriate for small children.
6. Go birding. Autumn is the time where birds start flying south for warmer climates. The 965-acre Currituck Banks National Estuarine Reserve is just a mile north of Corolla and is populated by hundreds of bird species, both local and migratory. Visitors can look for tree swallows, common loons, ospreys and piping plovers that are known to inhabit the area in the season. While there, look for various species of fish in its nearby waters. The Reserve has an additional estuarine research center (the third largest in the country) full of dedicated biologists working to preserve the fragile land.
7. Eat your way through Currituck County. Dine on fresh local seafood in various seashore restaurants in Currituck County. Frog Island Seafood Inc. in Barco has been feeding visitors for over 20 years and serves soft shell crabs, crab cakes, scallops and shrimp. Its mom-and-pop vibe is a favorite among locals to dine at and bring home bags full of oysters. In Corolla, Dockside North Seafood Market brings in fresh catches from the nearby Outer Banks for visitors to pick up for a picnic at the beach. Items on the menu include snow crab clusters, lobster tails, mussels, clams and a variety of local fish. However, for a spectacular view of the Outer Banks where you can have a martini with your crabs, head over to Corolla to North Banks Restaurant & Bar for a hip and beachy vibe with mounted fish on the walls. Diners can choose from fish tacos, firebugs (fried oysters) and lobster bakes.

8. Golf seaside at The Currituck Club. Designed by the famous Rees Jones, The Currituck Club is a semi-private country club featuring a luxurious 18-hole golf course. Golfers can enjoy the view of the Currituck Beach Lighthouse, the Atlantic Ocean and pine trees surrounding the course while teeing off. The club was rated by Golf Magazine as one of the top 10 best new places to play and has received much attention for its remarkable location of sand dunes, wetlands, ocean and forest. Its Outer Banks practice faculty is open to the public and comes with additional tennis courts, volleyball courts, basketball courts, bike trails and a kiddie playground. Don't leave too quickly after a round of golf; the club has its own restaurant with a large patio featuring soups, salads and sandwiches.