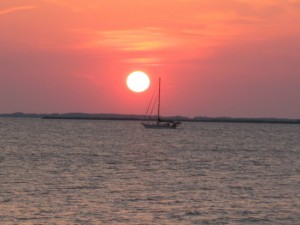 Today marks the beginning of Labor Day Weekend, which means that the symbolic end of summer is essentially upon us. The kids are heading back to school, everyone is putting their noses back to the grindstone, and the tourists are all going back home… or are they? September and October are actually great months for visiting the Currituck Outer Banks. Don't believe us? Here are five fabulous reasons why.
It still feels like summer. The average high air temperature in Currituck in September is 81 degrees with a water temperature of 77 — still perfect for swimming. October stays mild with an average high of 72 degrees and water temperatures around 70, giving you great weather for long walks on the beach and dipping your toes in the surf.
The prices for accommodations drop significantly. Think about it — everyone wants to go to the beach in June, July and August. With the kids back in school, fewer families are able to take a week to stay in a beach house or hotel. If your ability to take a trip isn't limited by the school system, it's a great time to get away and get a sweet deal on a vacation rental.
No lines. All of the big attractions stay open through the fall, and some are open year-round. So you can enjoy climbing the Currituck Beach Lighthouse without having to wait 45 minutes in the hot sun to get inside.
The party's still going! The weekly wine festival at the Whalehead Club in Corolla continues into October, and great events like Wine & Swine OBX, the Currituck Wildlife Festival, and Currituck Heritage Day happen after Labor Day.
Less traffic. Anyone who's sat in a line of cars on a Saturday or Sunday morning waiting to get to or from their vacation rental knows that peak season can have sometimes have crazy traffic. Fewer tourists means fewer cars; fewer cars means a quicker drive to and from OBX.