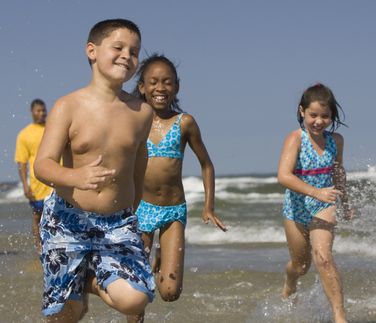 When traveling with the entire family, most of us know the rule: if the kids are happy, everyone is happy! Skate parks, outdoor playgrounds, miles of sandy beaches, treasure hunts, and one-of-a-kind adventures make the Currituck Outer Banks and Mainland a memorable and exciting place to bring the kids for vacation.
Swing into Maple Skate Park
Designed by Gridline Skateparks, this hidden treasure of skateboarding adventure is tucked away in Maple in the center of the Currituck mainland. Whether you are staying close by or are traveling through to the Currituck Outer Banks, the Currituck County Skatepark is a great place to stop and let the kids burn off some energy and make lasting memories of fun! For families familiar with skateboarding, the clean lines and deep bowls of the park are sure to impress! For more information, click: here.
Rent Paddle Boats
Take to the water for a fun day in the sun on a paddle boat in the Currituck Outer Banks. Explore the animals of the waterway, like turtles, fish and aquatic birds from the comfort and safety of an enjoyable paddle boat ride. For more information, click: here.
Discover the Wild Horse Museum
It's not every day you visit somewhere where wild horses roam free among the beaches. Not until you visit the Currituck Outer Banks, anyway. Kids of all ages, and even adults for that matter, marvel at the beauty of the wild horses that inhabit Currituck's beaches. Discover the history and magic behind the native creatures with a fun day at the Corolla Wild Horse Museum. With educational activities for children, this free museum is a great way to get out of the heat or pop in on a rainy day to spend some quality, fun, educational time with the kids. For more information, click: here.
Check Out the SEAL Program for Kids
Designed for children ages 7-14, the Outer Banks SEAL (Safety Education and Aquatic Learning) program focuses on water safety, teaching children about the ocean, first aid, and physical fitness. A great idea for children who are not very familiar with the coast or with water in general, the SEAL program also offers adults a free, two-hour parent/guardian seminar during the kids' course. For more information, click: here.
As a family-oriented vacation destination, the Currituck Outer Banks and mainland offers numerous opportunities for the entire family to join in on the fun, creating lasting memories for your kids for years to come. Check out some of these tips to make your Currituck OBX vacation a trip they will never forget!