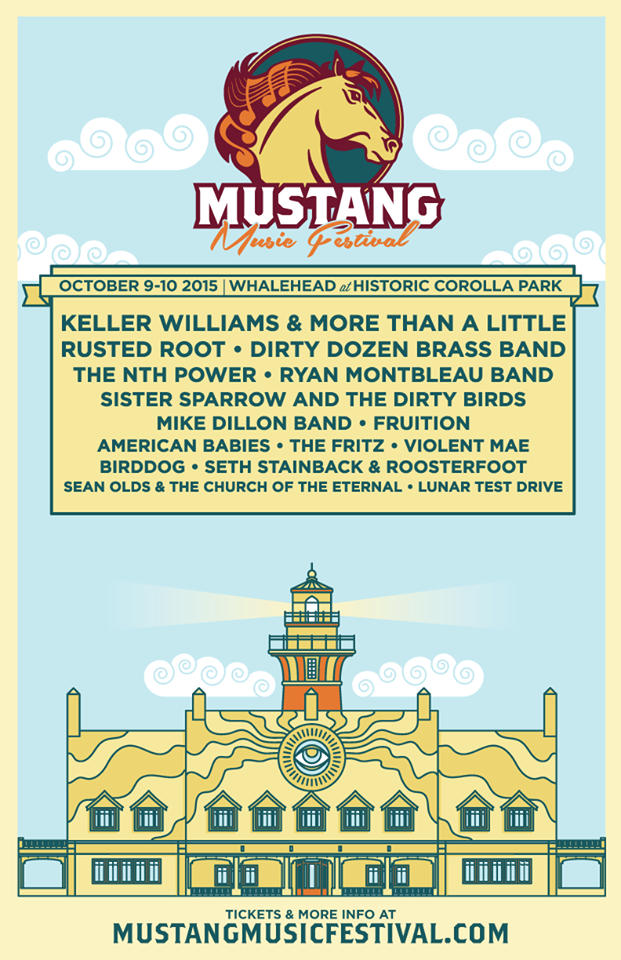 Part of the unique charm of the Currituck Outer Banks can be found in the beautiful wild horses of the northern beaches. Now, combine the desire to preserve that legacy with an excitement for life, music, good food and family, and you have yourself an event you shouldn't miss!
The Mustang Music Festival, a two-day premier music and arts celebration, will return to Corolla for its 5th year coming up on October 9th and 10th. Featuring a mashup of artwork, world-wide touring bands, and local bands straight from the Outer Banks and surrounding areas, the Mustang Music Festival is the ultimate celebration of artistic expression. Not only that, but proceeds benefit the Corolla Wild Horse Fund, the Mustang Outreach Program and the Whalehead Preservation Fund – programs that are near and dear to the hearts of all involved in this festival, says MMF creator and director, Mike Dianna.
According to Dianna, one thing that makes the Mustang Music Festival such a wonderful experience is its beautiful geographic location! After the event became too big for its original location at Mike Dianna's Grill Room in Corolla, it has since partnered with the Whalehead in Historic Corolla, the perfect location to enjoy all that is beautiful about the Currituck Outer Banks in October!
"Mike D's passion for music has helped to not only create a vibrant music scene on the Outer Banks, but it has inspired the community to come together for all the right reasons," said Myles Wood, OBX local and 2013 and 2014 festival performer.
The Mustang Outreach program was created to supplement the cultural arts programs in local schools with world-class music performances, residencies and mentoring programs. In order to provide a stage for musically gifted local students to perform their self-composed works, Mike Dianna and the group responsible for putting on the festival allows local kids in this program to take the same stage as the world renowned artists, forging experiences and memories they will never forget.
"As a result of [Dianna's] efforts, young musicians get a chance to share the stage with national touring acts, local bands get to collaborate with some of the nation's best musicians, and the natural beauty of the Outer Banks is highlighted with his family-friendly event," Woods said. "It's a win-win for music lovers and the community at large and at the end of the day, we are helping to preserve the wild horses of the Outer Banks!"
Always held on the Friday and Saturday on Columbus Day weekend, the Mustang Music Festival showcases what the northern Outer Banks is all about. Celebrating rich history, our beautiful coastal environment, bringing family together, enjoying great music, celebrating good food and spending quality time with good people is what you will experience at the one-of-a-kind Mustang Music Festival!
For a complete lineup of this year's amazing musicians, or to purchase your tickets, visit www.mustangmusicfestival.com.