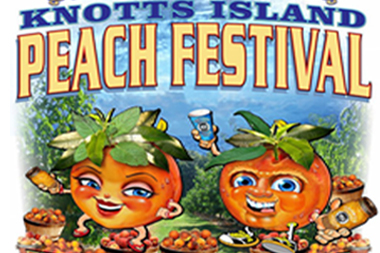 The Knotts Island Peach Festival is back! This year's festival features arts and crafts, food, music, and tons of family-friendly fun. Lasting from 10am to 5pm on both Saturday and Sunday, the Peach Festival is sponsored by the Ruritan club of Knotts Island and will take place in Ruritan Park. Martin's Vineyard will also be open, and many of the island's residents choose to have yard sales, so there will be plenty of other things to do if you choose to wander away from the park for a spell. On Saturday June 22nd, there will be musical performances from 11am-1pm by The Dallas Band featuring Stephanie Poole and from 1:30pm-3:30pm with Tee Meroney playing country music. Sunday's music includes Jack Bateman singing an hour of gospel then an hour of country and rock from 11am-1pm, then from 1:30pm-3:30pm we've got Bob Radford and the Classic Country band with Garland Abbott, Jerry Hayes and Bill Wasarhaley.
Ruritan Park is located at 176 Brumley Road, but typing 161 Southend Road into your GPS will take you to the parking area for the Peach Festival. Signs will be in place to help you find your way. You'll need to access the island either by taking the causeway road or the ferry.
The weather is supposed to be beautiful this weekend, so bring the family for a day of food and fun at the Knotts Island Peach Festival! And if you'd like to learn more about fun events in Currituck, check out the events calendar!