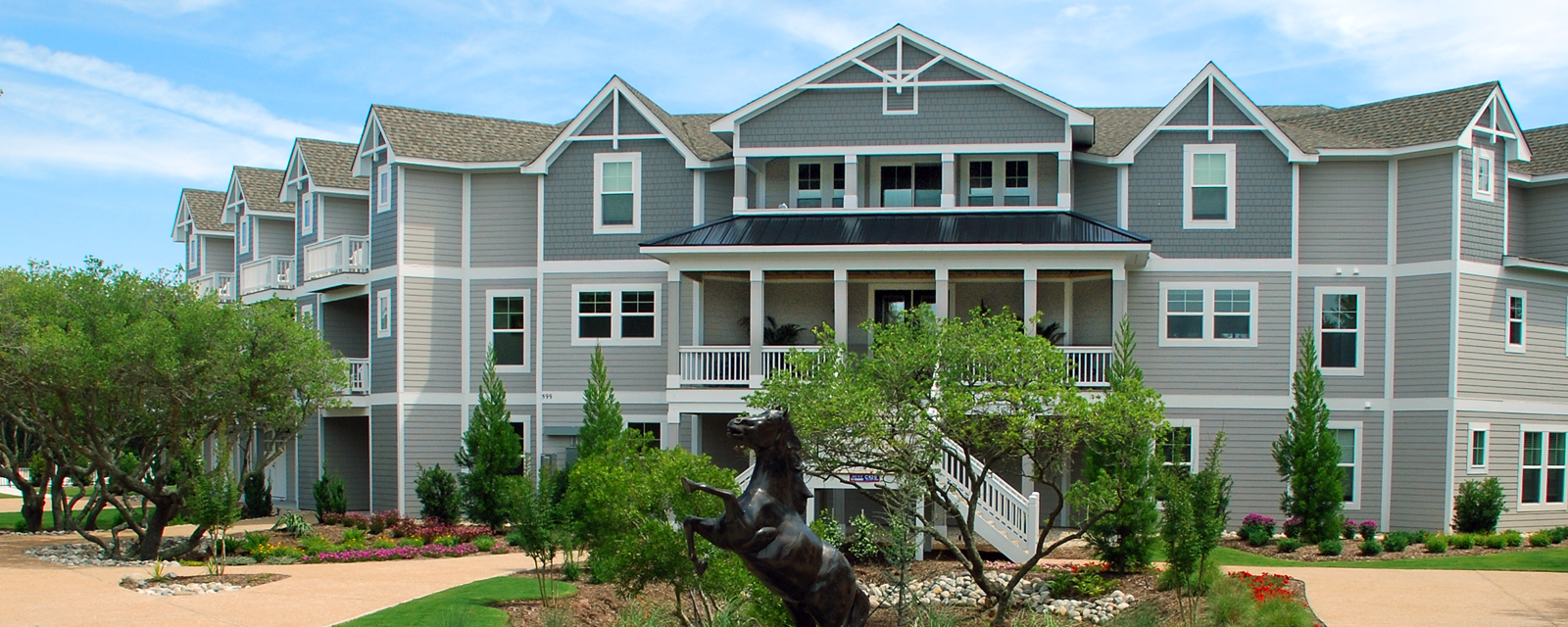 When the gray days of winter get you down, brighten your outlook by planning a spring or summer stay on the colorful Currituck Outer Banks. Knowing that you've reserved a spot in the sun makes for an easier winter, and by renting early, you'll get the best choices and values on property. While some properties rent to the same families each year, most don't. However, popular dates — such as holidays — tend to book up early.
The rentals in Currituck Outer Banks include oceanfront beach houses and semi-oceanfront rentals. Some have spectacular sunset views over the Currituck Sound, while others focus on the sunrise views out of the Atlantic.
Miles of pristine beaches beckon vacationers to stick toes in the sand, spy dolphins rolling in the surf, and marvel at the pelicans diving into the sea for a seafood snack. Springtime's gradual warm-up and summer's seemingly endless days provide ample moments to get out and soak up nature's seaside shows.
Our beach accommodations range from 2 to 24 bedrooms — intimate enough for a romantic retreat, or sizable enough for family's multiple generations or for traveling with a few friends and their entourage. Check out the different rental agency websites to start your beach house quest. You may narrow your search by electing amenities, such as a smoke-free home, one that allows pets, one with a swimming pool, and even homes that do not come with internet so your family vacation focuses on each other and your spectacular surroundings. The agency's websites include interior home photos so you can see what the place looks life before renting.
Many oceanfront homes include multiple levels with panoramic ocean views. They often sport decks for hanging out in the sun, and screened-in porches that create quiet corners. You may find that you like to open the windows overnight so you may sleep with the sound of the waves rolling against the shore.
You can save a bit by selecting a semi-oceanfront home or one that faces the Sound. If you don't need to walk out your door and be atop a sand dune, these may be best for you. Be sure to check out the closest beach access on a neighborhood map to determine how close it is to where you want to be, and take into consideration your group's need.
The folks in Currituck want to make this process easy for you. Don't feel as if you should bring all of your supplies to Currituck. Many of our friendly businesses specialize in supplying you with the gear you need for a great time, whether that's a cart to tow kids' stuff to the beach, a few bikes for your crew, a beach umbrella for those long days on the shore, or even sporting goods such as a stand-up paddleboard, kayaks, or fishing gear for active days. Plus, they will have your stuff waiting at your rental when you arrive (and pick it up when you leave).
When you stay in a beach home, you'll have all the comforts of home, including full kitchens where you can cook your own meals. Check out these spots that stock your home before you arrive, so when you do, you can head to the water first instead of the grocers. Plus, you may want to opt for the ultimate luxury: hiring a personal chef to come in and prepare a feast for your group. All you have to do is sit down hungry and indulge. They even clean up your dirty dishes.
Once you've booked your vacation spot, then you can enjoy the anticipation of your vacation, instead of worrying. Book your special destination, and then start counting down the days until you arrive in our slice of Outer Banks paradise.