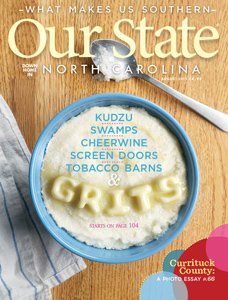 Ancestry runs as deep as the history of its heritage in Currituck County. Local names and faces blend with nature in the striking photo array captured by Emily Chaplin in the August issue of Our State magazine.
Currituck County, known as the land of the wild geese, is flawlessly displayed in its picturesque spender in a 24 page spread of this month's issue. The photos show more than the obvious beauty and uniqueness of the area — the wild horses of Corolla and the Currituck Beach Lighthouse. This issue also highlights the slow moving beauty that people rarely witness as they travel through on Highway 158. The photos show the rich spiritual nature of the community and the serenity of the land, from peaceful sunsets over the marshes to the calm waters of late afternoon on the Currituck Banks. The sparse captions tell of deep roots in the families who have settled here for generations living in kinship to the land, its resources, and its natural beauty.
Sparked by a visit from Our State magazine's editor, Elizabeth Hudson, the photo array celebrates this coastal community known as a hunter's paradise for its abundance of all kinds of wildlife, particularly ducks and geese. Currituck County has always been renowned for its hunting, fishing, and farming. Local residents have carved decoys for generations and once a year, the community has a Wildlife Festival with displays of local carvings and artistic renderings celebrating the area's history steeped in nature. The photo array also highlights the old and new as local families who have been living and working in Currituck for generations open new, successful ventures. Currituck is quickly becoming known for its NC barbeque, farmers markets, fresh seafood markets, and vineyards.
Pick up a copy of the August issue of Our State magazine. It celebrates Currituck County in a wonderful pictorial display and also has interesting articles that capture North Carolina's small towns, unique histories, and good food.
This release is being submitted by Currituck County Travel and Tourism, 106 Caratoke Hwy. Moyock, NC 27958. Learn more about Currituck County at dev.visitcurrituck.com.