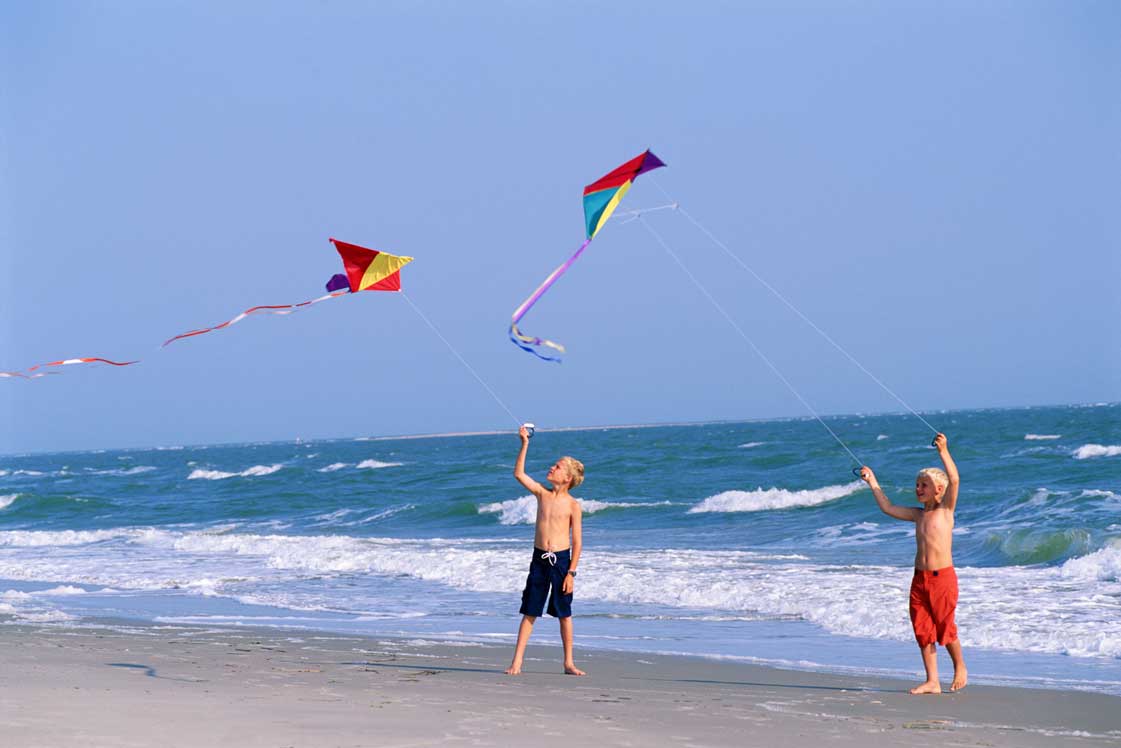 Go fly a kite! Seriously! In the Outer Banks, the saying isn't a dismissal, but rather an invitation to a day of family fun. While the area on the coast of North Carolina is known primarily for its beautiful beaches, wild mustangs, and various water sports and fishing, kite flying is an especially popular pastime for residents and visitors. Several events staged in Dare and Currituck County throughout the season provide hours of entertainment for the novice and expert flyer. Next time you're vacationing in the Outer Banks and feel you have "beached" out, take a break and grab the lead on a beautiful flying wonder.
Where to Buy Kites
Have you come to the beach without something to fly? No worries! The convenience of the many available surf and sailing shops in the area allow you to stock up on the gear you need for a day of fun. String, bling, the whole flying machine…you can find it at either of these recommended spots:
Kitty Hawk Kites (several locations around the Outer Banks) – Largely regarded as the first name in kites on the Carolina shore, this popular chain has everything you need to soar through the sky! Whether you want to lead a simple single line flyer down the beach, or are interested in something more extreme like kiteboarding, this should be your stop. All manner of flying toys are here for your – leisure and competition styles, and tools for hang gliding, too.
Flying Smiles Kites (1159 Austin Street, Corolla) – This shop is all smiles! Located across the street from the Currituck Beach Lighthouse and the Whalehead Club, Flying Smiles is a recent addition to the Outer Banks. Here you will find kites of many colors – single line, dual line and quad line – as well as a "kite hospital" for repairs. Lessons on helping your nylon "birds" to sail in the clear blue are also available.
Where to Fly Kites
There's always the beach, but in the summer the sands are likely to be occupied with many sun worshipers. It wouldn't do to trip over a multitude of bodies in order to keep your kite aloft, so where else can you go? The expansive lawn of Currituck Heritage Park, home of the Whalehead Club, is one alternative, as is the more secluded Knotts Island area.
For a soaring great time, be sure to pencil in an afternoon of breezy kite flying on your next trip to the Outer Banks. When the sky is clear and sunny, you won't find a more beautiful site than a series of strings slanting upward, supporting a flock of colorful kites.
Kathryn Lively