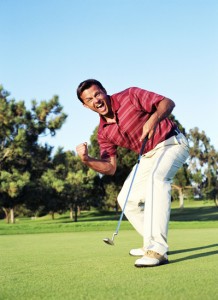 When you think of the Outer Banks of North Carolina, more than likely the image of a windswept beach first comes to mind. You think of delicious seafood and surfing the east coast, relaxing along a temperate shore while wild mustangs roam the sand. Indeed, the Currituck Outer Banks and the Dare County area are wonderful destinations for seasonal beachcombers, but the Carolina shores are also a big attraction for golfers.If you are looking for an exclusive golfing vacation, why not try the Outer Banks this year? Many courses are open year round, and the weather is always pleasant enough for a round or two. You will find many public and semi-private clubs ready to welcome guests for an energetic eighteen holes along miles of beautiful greens that border the bay.
Not sure where to start? Here are a few suggestions to consider when planning your golf getaway.
The Pointe Golf Club – Powells Point

This is a favorite of the United States Golfing Association. Lush pines and myrtle trees surround the pristine greens of this course, putting surfaces are smooth and rounds are played rather quickly. This is a course suitable for all levels of play, but be warned that The Pointe is a seasonal course: though it is open year round, hours vary depending on what time of the year you come to the Outer Banks. Call ahead.
The Currituck Club – Corolla

The Currituck Club offers one of the most popular and most acclaimed courses in the state. Designed by legendary designer Rees Jones, the challenging greens of the Currituck Club have been praised in Golf Magazine and Golf Digest. Nearly seven thousand yards of terrain, curved and smoothed in just the right places, await the avid golfer.
Kilmarlic Golf Club – Powells Point

Kilmarlic sits on an impressive seven hundred acres of land brushing against the Carolina wetlands, giving the course an exotic atmosphere. Enjoy cool, ocean breezes and spot wildlife indigenous to the area as you enjoy a good walk, never spoiled by play here.
The Carolina Club – Grandy

This is where the locals come to play, on a par 72 course suitable for all levels of skill. Try the island green and test your swing, and delight in grand views of green stretching all the way to the Atlantic.
For the very serious golfer, the Outer Banks Golf Association is on hand with special play and accommodations packages to anyone looking to put a bit of swing into their vacation. Group rates are available for corporations, bachelor parties, or any gathering of golf buddies. When the rounds are done, you still have time to enjoy some the finest seafood and sights on the east coast. Be sure to book early, however, as golfer are fast coming to find the Outer Banks as their first stop in golfer's paradise.
Kathryn Lively is a freelance travel writer and editor. She writes for the Currituck County Department of Travel and Tourism, in the Outer Banks.