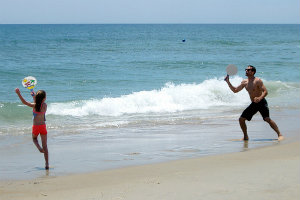 While the Currituck Outer Banks has beautiful beaches that are great for relaxing, some beach goers enjoy a little activity when spending a day by the shore. In addition to the awesome watersports like surfing, kayaking, and stand-up paddle boarding, there's a long list of fun activities to enjoy on the shoreline. We have compiled a list of fun, family friendly beach games that will keep you entertained while soaking up the Outer Banks sun!
Beach Paddle Ball
There's no game more synonymous with a good time at the beach than paddle ball. A variety of paddle ball sets are available, but they are all pretty similar. These paddle ball sets can be found in most "beach stores" or sporting goods stores in coastal areas. Paddle ball is best enjoyed just above the shoreline on a beautiful Currituck Outer Banks summer day. Enjoy this game on the beach with your friends during the summer of 2015!
Kan Jam Ultimate Disc Frisbee
Kan Jam hasn't been around for quite as long as some of the other classic beach games, but it is quickly becoming popular. This fast-paced, interactive team game includes two cylindrical target goals, a flying disc (Frisbee), and four players. Points are scored by hitting or entering the goal from the top (3 points), hitting the goal with a direct hit (2 points), a redirected hit (1 point), or win instantly by getting the disc inside the slot on the side of the goal! The first team to 21 points wins. The game is easy to learn how to play and is great for the whole family!
Ladder Golf
This fun beach game is played with 2 or more players, and makes for great group entertainment. Each player has 3 "bolas" that they attempt to wrap around one of the ladder rungs that sit 15 feet away. The game is challenging, yet fun and makes for a great time with friends and family. The rules of the game are easy to learn as well, so be sure not to miss out on ladder golf during your visit to Corolla's beautiful beaches!
Bocce Ball
When it comes to beach games, it doesn't get simpler than bocce ball. This game is relaxing, yet extremely challenging and competitive. Standard bocce sets generally consist of 8 colored balls, 4 balls to each color, and one smaller ball called the jack or pallino. The game can be played one-on-one or with teams of 4 players or less. The game is played by simply attempting to toss the larger balls towards the smaller (jack/pallino) ball. The team who gets closer to or hits the pallino earns points based on various scoring rules. The game is extremely fun to play on Currituck Outer Banks beaches, so don't forget your bocce set when traveling to Corolla this year!
Enjoy one of these fun beach games, or a personal favorite of your own during your stay on the Currituck Outer Banks. The beach is supposed to be a place of fun and relaxation and we hope these games enhance your coastal experience!