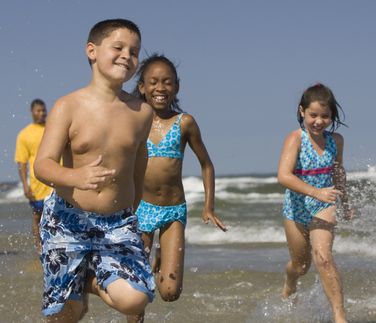 We know kids love the beach. We especially love when families visit us from places up north or landlocked areas, where you don't normally have opportunity to spend time at the shore. Seeing a child gaze in wonder at the ocean and take off in a run toward the waves is something to behold. We are happy to host residents and visitors on our lovely shores, but we know kids enjoy a variety of activities while on vacation. The Currituck Outer Banks and Corolla areas have plenty to entertain the little ones. Let's take a look at five favorite spots.
Close to the popular Timbuck II shopping center in Corolla is this challenging but fun 18-hole miniature golf course. With incredible views of the Currituck Sound, the kids can pretend they're competing at the Masters! This course is open during the peak season, from May to October, and is open late into the evening. Call 252-453-6900 for more information.
2) Horsebacking Riding at Wrangler Farms
The wild horses are a big attraction here, but did you know you can also enjoy riding lessons and other fun events? Wrangler Farms offers horseback riding lessons to kids as young as four, as well as a series of awesome summer camps to help kids learn proper equestrian skills. Call 252-491-5090 for more information.
3) Miss Kitty's Old Time Photo
A picture is worth a thousand words, and when families come to the beach for the summer it's almost a rite of passage to have a memorable photo taken. Miss Kitty's in Corolla lends a touch of history and/or mystery to picture taking – here kids can dress up as dashing soldiers and sophisticated ladies, and create awesome framed souvenirs to take home, or to send to the grandparents as gifts.
4) Skate Parks
Currituck County has two popular skate parks for kids and adult skaters to try. Maple Skate Park is free to use and features an 11′ keyhole and deep bowls. On the other side of the county, Island Revolution Skate Park in Corolla charges admission but you'll find a huge bowl with a 9′ deep end and a mini street course with wedge ramps. You can also rent boards and safety equipment, and sign up for summer skate clinics.
5) Kayaking
Coastal Explorations of Corolla offers a great kids' camp for those who want to learn to kayak and see the natural beauty of Currituck Outer Banks. Kids will learn to catch shrimp and crabs and enjoy the fresh air as they paddle with experienced staff along the sound. Call 252-453-9872 for camp information.
From sports on land and in the water to unique photo moments, Currituck and Corolla offer amazing fun for your kids. You definitely will not run out suggestions to keep them active and happy.
Kathryn Lively