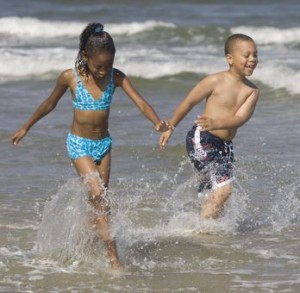 When you think of Currituck County and the northern Outer Banks, you think of the beach. There's no avoiding it – the beach is the big attraction here, and now that the weather is warming up we're sure to see more people enjoying it. We hope that when you come see us that you'll take advantage of the sunny days and clean sand, but that you'll also stay safe.
With this in mind, we'd like to share a few safety tips which we hope will help you have fun on our shores. You are also welcome to check the Visit Currituck site for important emergency contact information – print out the page before you arrive and keep it handy.
1) Mind the weather reports. We savor many a sunny day in Currituck, but the occasional thunderstorm does strike. If heavy rain and/or lightning is forecast for the area, consider an alternative activity until the sun reappears.
2) Sunscreen! Protect your skin while you play and lay on the beach. Even if you don't feel the sun on you, or clouds are partly covering the sky, you are still exposed to the sun's rays and can risk a burn. Make sure the kids are well covered with a good, long-lasting screen.
3) Look but don't touch. If you're lucky, you just may see a few wild horses trotting along the shoreline. Our resident Mustangs are something to see…literally. You may be tempted to get closer for a picture or a pet, but there is an ordinance in place that prohibits people from getting too close. According to the law, you have to stay at least fifty feet away. If you see horses on your trip, admire them from a distance.
4) Stay near the lifeguards. The Corolla Ocean Rescue team patrols the beach from Memorial Day to Labor Day, usually from 9:30 AM to 5:30 PM. Because rip currents are possible (and you'll see red flags on the beach if one has been spotted), you'll want to stay near a patrolled area if you want to swim. Beachgoers are also strongly discouraged from night swimming.
5) Keep the matches at home. Open burning and bonfires are prohibited on Currituck beaches. If you want to grill out, you'll have to wait until you get to your vacation rental.
We hope to see you soon. Memorial Day is right around the corner and we're already hearing from people who plan to visit. You can still find a great beach home to rent for your vacation. Come on down!
Kathryn Lively