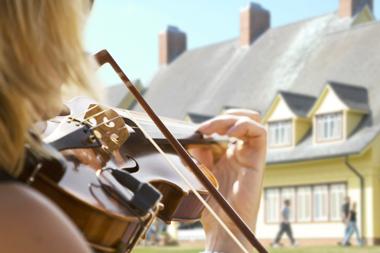 While the Currituck Outer Banks and mainland have so much to offer on an annual basis, there is no time of the year that is quite like the summer. From beautiful fresh produce that you can only find in the summertime, to fun watersports on the sound, and finally relaxing on Corolla's gorgeous beaches, summertime has so much to offer the entire family. Memorial Day brings the beginning of the summer season, and here on the Currituck Outer Banks and mainland we think that is something worth celebrating. Read below to find out about some awesome events taking place right here in our own backyard!
Run-A-Muck Currituck 2015 May 23rd, 9AM Sanctuary Vineyards
Runners of all ages won't want to miss this awesome event! Run-A-Muck Currituck isn't simply a 5K mud-run/walk, but also features obstacles to put participant's physical fitness to the test! There's even a quarter mile "Little One's Mud Run" for children to enjoy. All who register will receive an event T-Shirt as well as a ticket to the Mud Mixer which will take place later that day! All proceeds from the event go to The Currituck County Fraternal Order of Police which is a wonderful non-profit organization. With that said, you can have some fun for a great cause at Run-A-Muck Currituck 2015!
Mud Mixer Saturday May 23rd, 11 AM-5PM Sanctuary Vineyards
Taking place after the Run-A-Muck mud obstacle race is Sanctuary Vineyards' Mud Mixer. The event will feature local wine and beer tastings from some of the area's best breweries and vineyards! In addition to the excellent beverages, live music will be on hand for all to enjoy. The Mud Mixer will be a wonderful opportunity to hang out with good friends and take in the wonderful spring scenery that the Currituck mainland has to offer!
Memorial Day Beach Blast May 24th, 12-5PM Whalehead in Historic Corolla
There's no better way to celebrate the beginning of summer here on the Outer Banks than to enjoy a family friendly concert. Enjoy some great local food while listening to the fun and upbeat songs played by great artists. Excellent music from various artists will fill the air. Don't miss out on all of the fun that will be on hand at the 2015 Memorial Day Beach Blast at Whalehead in Historic Corolla! Live Beach Music can be enjoyed by all who attend the event throughout the entire afternoon. The event is free and is sure to be a great time, so bring your family out to Historic Corolla Park on Sunday, May 24!
The Currituck Outer Banks and mainland are a great place to welcome the summer season. With that said, don't miss your chance to celebrate while honoring our country's armed forces with these great events!