When the time comes to choose a location for your destination wedding, Currituck is a bride's dream come true. With a natural landscape that requires no decorations to make it beautiful, Currituck offers the full package to create a breathtaking, unique, and memorable wedding. After you say yes, here are a few reasons to pick Currituck to say your "I Do's"!
1.       Natural Beauty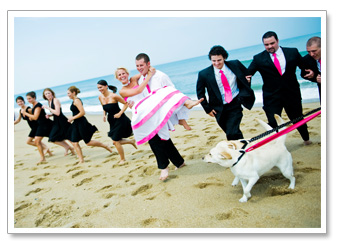 With a wild, untamed beauty you can't find anywhere else, Currituck offers an untouched atmosphere to say your nuptials in a spectacular way. Miles of sandy beaches, a plethora of wildlife, vineyards, sound and oceanfront views, and many other attributes make the natural backdrop of Currituck one that would transcend your wedding into an alluring affair.
2.       Unique Landmarks
As if the magnificent earthy backdrop of Currituck wasn't enough in itself to yield your dream-come-true wedding scene, these particular landmarks of the area can also set a pretty spectacular stage.
Whalehead in historic Corolla
The Whalehead Club has been a favorite venue among brides for many years, offering a soundfront wedding fit for a queen! The impeccably restored 1920s Art Nouveau style house provides a gorgeous backdrop for nuptials, as does its property, featuring a romantic bridge and waterfront views, ideal for photographing your special day.
Currituck Beach Lighthouse
One of five Outer Banks lighthouses, the Currituck Beach Lighthouse is situated on the thin strip of land in Corolla, bordering the Whalehead Club's property. The 220 steps of the functioning lighthouse lead visitors to the top for an unbelievable 360-degree view of the Atlantic Ocean and Currituck Sound for miles and miles. The Currituck Beach Lighthouse is a majestic backdrop for a wedding, and it provides spectacular wedding pictures. Make wedding memories at this gorgeous Outer Banks landmark for a truly unique event.
3.       Gorgeous Destination
What could be better than the convenience of a wedding and honeymoon all-in-one? After you say your "I do's", stay in Currituck and enjoy the Outer Banks area. Currituck's Outer Banks provides a great honeymoon destination by the sea, and you won't have to travel after your wedding to get there! Take advantage of beautiful sandy beaches, numerous historical activities, exciting watersports and much more.
Here's Where to Start
Learn all about planning the most memorable Currituck wedding with our free Currituck Outer Banks Wedding Planner. Here are some additional links that will help make your planning process smooth!
Helpful links for planning a Currituck Wedding:
Your family and friends will love coming to your out-of-town wedding, as it will give them a perfect excuse to not only see their loved ones getting married, but also to take that much-needed beach vacation they've been wanting to take. It's a win-win for everyone when you choose Currituck for your destination wedding location.