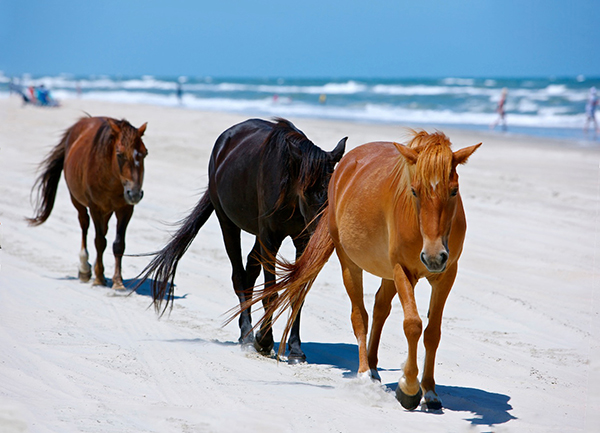 Have you been trying to plan a trip with old friends for what seems like a decade? If so, now is the time to plan that trip! It shouldn't take much convincing, but tell your long distance friends that Corolla, NC is the perfect place to meet up for a week or long weekend of quality hang out time. There's no better time to make that retreat to the coast with old friends than during the fall on the Currituck Outer Banks. Think your friends might be stubborn and need a little convincing? Read below to find out why you and your best friends should visit Corolla in the fall!
Your Favorite Restaurants are Still Open
Food with family and friends, that's what special meals are all about. On the Currituck Outer Banks, your favorite restaurants will still be open during the fall. Do a little research before you visit the area and find out which restaurants suit your tastes as there are so many great locations to choose from!
Awesome Weather
The ocean water often matches the air temp, the nights are cool and crisp, while the mid-day high temperatures are still nice and warm. Visit the Currituck Outer Banks during the fall and find out why the locals look forward to this time of year and why many say "it's the reason they live in this beautiful area."
Football with Friends
Many Outer Banks vacation rentals are equipped with fabulous recreation/entertainment rooms that are perfect for hanging out with friends and watching all the games on a fall football weekend! Pool tables, darts, foosball, darts, you name it, and they have it! There's nothing better than a beautiful morning spent enjoying the beach or sound only to spend the afternoon relaxing at your vacation rental grilling out and watching football. Whether you are old college friends rooting for your alma mater, or fans of the professional game, the big game is on in Corolla! If you don't feel like cooking, catch the game, a wonderful meal, and the beverage of your choice at one the area's wonderful bars.
Great Fishing
Whether you're an expert or a novice, fall fishing on the Outer Banks has been a tradition amongst friends for years. There are many tournaments, and for good reason. The fish are biting during this time of year! Rockfish, flounder, blue fish, Spanish mackerel, the list goes on and on. Whatever you prefer to reel in, you can catch it on the Currituck Outer Banks with a little expertise, patience, or luck!
Round up your best friends and visit the Currituck Outer Banks this fall! It will be an experience you won't soon forget!