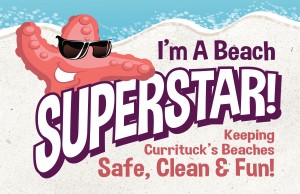 Currituck County celebrated Clean Beaches week earlier this month and launched the Beach Superstar campaign, but it's important to maintain clean beaches all summer – and all year. One of the best parts about a beach vacation is the beach itself, so please observe take these steps to make sure that our beaches are fun and safe for everyone.
Clear all trash. Who wants to swim or lay out next to abandoned cans and bottles – or worse, step on a piece of trash and hurt your foot? And we've all seen the posters and commercials where sea creatures get caught in the plastic rings that hold a six-pack of cans together. Save the animals and your fellow beachgoers some agony by having a designated trash container or throwing your trash into your cooler to throw away when you get back to your lodgings.
Stay 50 feet away from the wild horses, and don't feed them. The horses may seem tame and docile, but they are easily scared and startled, which can spell trouble for curious beachgoers. Startled or spooked horses are likely to kick and run, potentially injuring bystanders. Protect yourself and your family by enjoying the horses from a distance or on a designated wild horse tour. And while you may think it's nice to bring some fruit to feed the horses, this can also be dangerous. In the past, horses have choked and died because of eating food from well-meaning beachgoers. Foals are especially vulnerable to choking.
Additionally, getting close enough to a horse to pet or feed it will cause it to be covered in human scent. Even if it responds peacefully to being touched, it will not be allowed to return to the herd. So resist the temptation to pet the wild animals and instead visit tamed members of the herd at the Corolla Wild Horse Museum.
Swim only near a lifeguard, and don't swim if you see red flags posted. Posted red flags mean that the water is not safe for swimming, and it's important to swim near a lifeguard for your safety. Obey the red flags and all lifeguard instructions. It's to keep you safe from rip currents and other hazardous conditions, which can be extremely dangerous even for strong swimmers.
Leash and clean up after your dog. Cleaning up after your dog is pretty self explanatory – nobody wants pet waste to ruin their day at the beach. As for leashing your pet, this is important for a variety of reasons. It keeps your dog away from other dogs, preventing possible altercations. It also keeps a safe distance between your pet and the wild horses and your pet and other beachgoers, and it can help keep your pet safe from going too far out into the water.
Remove all beach gear by sunset. It can be a hazard to those walking or driving on the beach at night, and what seems like a perfectly fine place to leave your beach chair at low tide may be underwater during high tide.
Don't light bonfires, fireworks, or sky lanterns. With the hot, dry summer weather and beach grasses on the dunes, fire on the beach is a recipe for disaster. Even though battery-powered sky lanterns aren't necessarily a fire hazard, they create litter on the beach.
Stay off the dunes! Stick to walking on designated walkways and don't walk or drive on the dunes. The dunes are part of a delicate ecosystem that protects the beach and all of the houses beyond it from storm damage and surges. Walking or driving on the dunes wears them down, damaging the ecosystem and removing a layer of protection from storms.
Fill any holes you've made in the sand. Digging a hole to create a "swimming pool" on the beach can be fun, and you may want to bury your toes in the sand or create a moat for a sand castle. But leaving holes in the beach can be dangerous for others who just want to take a casual stroll. Especially once the sun goes down, holes in the beach can result in a sprained ankle and a ruined vacation. Fill in any holes you've made before leaving the beach.
It doesn't take much to be a Beach Superstar – just a little bit of common sense and consideration for others. Follow these tips to make sure that you stay safe while enjoying the beach.