If you're planning a trip to the Currituck Outer Banks and Mainland this spring, whether to beat the summer crowds, to fit a getaway into your busy schedule, or for a special reason all your own, there are plenty of events and happenings going on that you might want to check out! The following are a just a couple ideas for your Currituck OBX getaway.
Currituck Home, Flower and Garden Show, April 17 & 18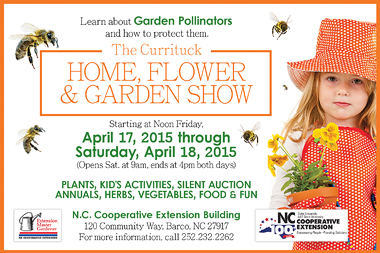 Spring is in the air, and it's that time of year again for the annual Currituck Home, Flower and Garden Show. The show began today and continues tomorrow. Doors are open to the public and the theme of this year's show, sponsored by The Currituck County Master Gardeners, is "Water Wisdom." Come out and discover an eclectic variety of vendors and useful exhibits, with informative demonstrations and children's activities. Bring the entire family out to discover "The Secret Garden" and get everyone in the spirit of spring! Take home a little piece of the Currituck Outer Banks and Mainland and maybe even some useful knowledge to make the most out of your lawn and garden back home. For more information, click: here.
SkyWay Festival, May 9
For all of you aviation lovers out there, or for families looking for something exciting and different to take the kids to on your next Currituck Outer Banks vacation, come see the famous C-54 Candy Bomber from the Berlin Airlift take flight at the Currituck County Regional Airport on May 9. There will be remote control, unmanned vehicle, and paragliding demonstrations, combined with displays of vintage, modern and military aircraft! The fun starts at 9a.m. and ends at 4p.m. Bring the entire family out for an adventurous day at the SkyWay Festival.
During your spring stay on the Currituck OBX, check out some of these events and enjoy the exciting opportunities Currituck has to offer in the upcoming months!