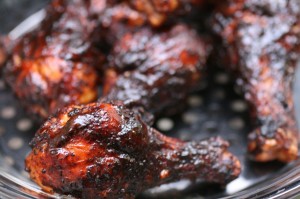 North Carolina is famous for its unique style of barbecue. And for many people, the best part of going on vacation is not having to cook dinner every single night. With this blogging the beach entry, we've scoped out the best places for you to score some barbecue on your Currituck Outer Banks Vacation. If you're looking for some high quality regional cuisine, look no further than these fine local establishments:
Currituck BBQ Company: Located mid-way between the VA-NC border and the Outer Banks, Currituck BBQ is the perfect pit stop if you're looking for delicious hickory-smoked, slow cooked pork BBQ, beef brisket, pork ribs, and barbecued chicken. They've also got great sides and desserts — don't miss the hush puppies and the hot fudge sundae!
Southland Trade Company: Located right across the VA-NC border, Southland features a gift shop, gas station, tobacco outlet, convenience store, and full-service catering in addition to the snack bar and restaurant. They have a daily buffet and Hog Wild Wednesdays with half-price barbecue for dinner starting around 5:30pm. Brave the crowds and grab a fantastic barbecue sandwich or platter… or both, since it's half-price!
Fat Crabs Rib Company: In addition to an amazing seafood selection alluded to by the Fat Crabs name, they've got an amazing selection of BBQ options. Pork, ribs, beef brisket, barbecue chicken… you name it, they do it and do it well. Grab a side of cornbread and collard greens for a uniquely southern dining experience.
Sooey's BBQ and Rib Shack: Located in Corolla, this place has fantastic hand-pulled pork, pulled chicken, brisket, ribs, fried chicken, and a variety of seafood options. Get a little bit of everything with the sampler: a quarter rack of ribs, fried chicken, pork BBQ, and beef BBQ. Got a huge family reunion to feed? Check out their catering.
Saltydawg Smokehouse: Headed by Master Griller Dave Boutilier, Saltydawg Smokehouse is popular choice for catering. These guys have some amazing award-winning pork BBQ and brisket. Check out their free tastings and lunch specials, too!
BJ's Carolina Cafe: With great food and great atmosphere, BJ's is a popular venue for corporate parties, special events, and wedding receptions. But they also have a restaurant side of the house, and it serves up some great home cookin' — especially barbecue.
Border Station: Located right at the VA-NC border, Border Station is a great pit stop with some great barbecue. Don't forget to grab some homemade jellies as a souvenir while you're there!