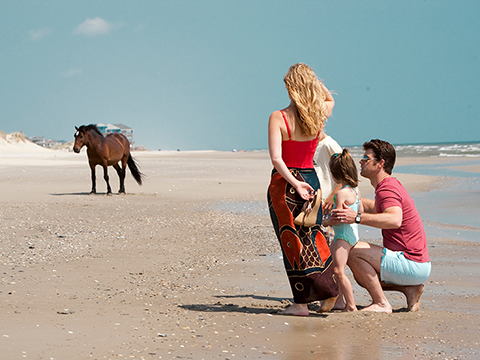 The wind on your face, the salt spray in your hair and the sun warming your body… you're at the beach and loving it! But what will inevitably happen after a leisurely day lying on the shore? Your hair is a dry tangle, your lips are cracked and your skin is red and crispy.
There are many ways for your body to love the beach as much as you do — and you can pick all of them up at your local drugstore before your next vacation.
1. It should go without saying, but the first thing everyone should pack for a trip to the beach is a great sunscreen. There are numerous varieties out there to choose from, so grab your favorite and make sure you use it! Sunburn can ruin even the best vacation, so lather up and don't forget your feet, ears, scalp, and the back of your legs.
2. Lips need protection from the sun, too, so invest in a lip balm with a sufficient level SPF. Nivea makes a nice one called "A Kiss of Recovery." Many brands offer lip balm with varying levels of SPF so find one you like.
3. Aloe Vera gel is the perfect way to refresh your skin after any sun exposure. Even with sunscreen, you may notice that your skin gets a little pink. Coat yourself with this cooling gel after sun exposure and watch it soak in within seconds.
4. An all-purpose exfoliant, like an apricot scrub, will make your skin feel as smooth and soft as a beach ball. Use before shaving for an extra-close shear.
5. Follow the exfoliant with an oil that can be used on hair and skin to rehydrate. Garnier makes a great one called "Triple Nutrition Miracle Dry Oil." It comes in a spray bottle for an easy and light application and is loaded with three different oils to keep your skin and hair soft and manageable. You can even use it on your face as a moisturizer before bed.
6. A daytime moisturizer with SPF and a little bit of cover-up tint will serve you well on those days that you decide to skip the beach and do a little boutique shopping. It can also double as a substitute for your regular, heavier makeup when you go out to dinner at night. Who wants to wear a full face of makeup at the beach?
7. If you do want to dress things up a little, we suggest the Nars Multiple Stick for a subtle yet snappy glow. Apply to lips and cheeks for a shimmery effect.
8. If you're someone who refuses to leave the house without mascara, waterproof mascara is a smart move. We suggest an eyelash curler, as well, to instantly brighten eyes and look more awake after those late nights walking on the shore.
9. Cleansing wipes are a must on any trip, whether you're wearing makeup or not. That first cool, crisp swipe across hot and sweaty skin is like heaven, and it can help remove layers of sunscreen and sweat that have built up after a long day.
10. After spending time in the sun, basking in the salt water and rolling around on a sandy towel, your skin is going to need some special treatment.
Pick up a face mask at the store or make your own with simple household ingredients:
a. 2 tablespoons honey

b. 2 tablespoons plain yogurt

c. Mix and apply to face for 20 minutes before rinsing off. Follow with moisturizer or face oil.
11. Salt water can make your hair look great, but you may find that underneath that tousled, beachy texture is a very dry scalp and lots of tangles. Try a store-bought hair mask or make one yourself:
a. 3 tablespoon of olive oil

b. ½ cup coconut milk (Bonus: you'll smell like a tropical paradise!)

c. 1 avocado

d. Mash avocado, mix oil and milk and microwave for 20 seconds before massaging into hair. Let set for 30 minutes and wash clean.
12. It's also a good idea to bring a nail kit. You just never know when you'll need tweezers, nail clippers or a nail file. It's better to be prepared than spend valuable vacation time agonizing over a hangnail.